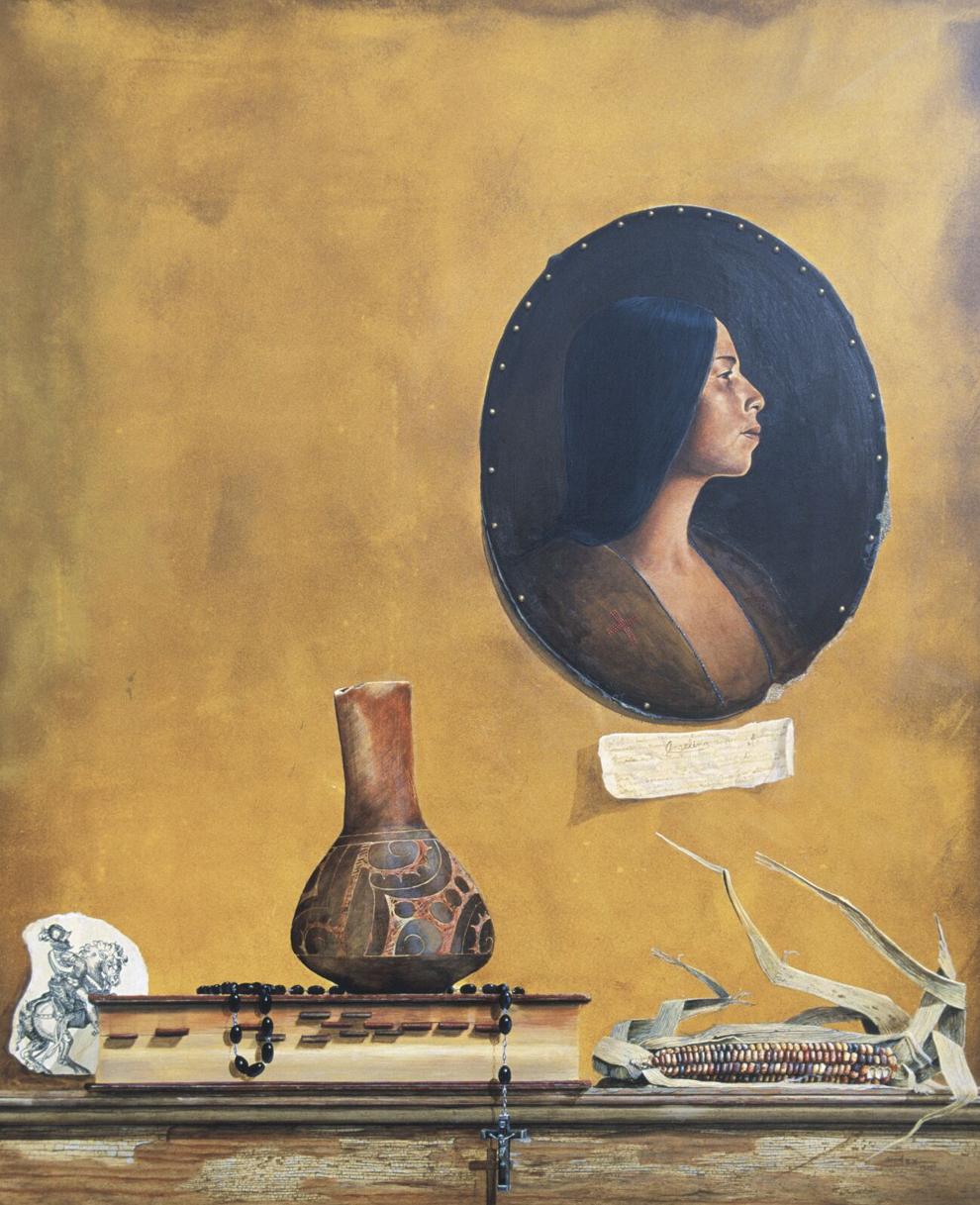 Angelina. It's a name taken for granted by many of the area's residents and cited with pride by the local chamber of commerce and other area boosters. Out of 254 counties in Texas, only one, Angelina, is named after a woman.
Although popular history identifies Angelina as a young Hasinai Indian woman who knew the Spanish language and was able to make peace between her people and the Spanish explorers, translating for the two groups and helping to bring Christianity to the Indians, evidence of these facts is not as concrete as mythology would suggest. In reality, the only facts that can be stated with confidence are that a Native American woman who spoke Spanish encountered Spanish and French explorers in the 1710s and 1720s in East Texas while living among the Hasinai people.
The somewhat mythical views of Angelina have influenced her place in the historical record and have so permeated the popular consciousness that even "official" histories have accepted the unsubstantiated details of her identity. An official Texas historical marker on the Angelina River where it crosses state Highway 21 calls attention to the river's importance in history and also highlights the river's namesake, Angelina. The paragraph honoring Angelina states: "Here in 1690, Spanish explorers and missionaries found a young girl eager to learn Christianity. For her sweet disposition she was called Angelina. Her name was soon used for the river where she lived. Though the French and Spanish were enemies, Angelina befriended all, and for years acted as interpreter." And thus the story of a young Indian maiden who peacefully forged a relationship between warring European factions and her own people, accepting Christianity and spreading it among her own tribe, has been immortalized in a roadside marker and the popular consciousness.
But who was Angelina, really? A sweet young Indian princess or someone else? A real person or a myth? The only recourse for historians is to search the historical record. The Hasinai Indians who occupied Deep East Texas and gave the state its name were a highly organized and advanced society but they left no written records. Thus, an examination of Angelina cannot start with who her people said she was but has to turn to the only written records of the time, those of the European explorers who used the rivers and forests of East Texas as a place to expand their empires and spread Christianity. Angelina, or a woman who can be assumed to be Angelina, is only mentioned in the accounts from five expeditions into East Texas: two French and three Spanish.
Getting to the bottom of the mystery of Angelina is a way to honor this real-life historical figure and remind modern East Texans of the many forces and nationalities that shaped the area we call home.
French Sources
Chronologically, Frenchman André Pénicaut's account of meeting a Hasinai woman named Angelique in 1712 or '14 (depending on which account is used) while on a journey with St. Denis through the lands of the Tejas in East Texas comes first. His account is important in that is the earliest mention of a Hasinai Indian woman named after an angelic being who spoke Spanish and served as an intermediary between Europeans and Indians but it is not a reliable account. Many other parts of his memoir are factually incorrect (including the dates of his journeys); so incorrect, in fact, that modern historians doubt if he was even on this expedition with St. Denis.
Pénicaut was a carpenter born in 1680. When Louis Juchereau de St. Denis, French soldier, explorer, trader and eventual commander at Natchitoches, journeyed through Spanish Texas to San Juan Bautista in 1714, Pénicaut claims to have accompanied him on this journey. It is on this trip that Pénicaut mentions a Native American woman many scholars believe to be Angelina.
According to Pénicaut, after 22 days of travel, St. Denis' party arrived at the Hasinai village and were greeted with a peace ceremony. St. Denis offered gifts and asked that they serve as guides on the rest of the journey through Texas. Language was not a barrier because a native woman served as interpreter. Pénicaut says: "In their village we found a woman named Angelique, who had been baptized by Spanish priests on a mission to their village. She spoke Spanish, and as M. de St. Denis too spoke that language fairly well, he made use of her to tell the Assinais chiefs to let us have some guides for hire." And with this, Angelina County's namesake receives her first mention in recorded history.
Pénicaut's narrative presents several problems and only deepens the mystery surrounding Angelina. Critics have argued his account is "so misleading and inaccurate as to destroy its usefulness." However, most critics agree Pénicaut's descriptions of the people and places he claims to have encountered are accurate and give historians a valuable image of the flora, fauna and people.
Perhaps the most interesting account of the French adventures in Texas is that of François Simars de Bellisle, a young French military officer who lived with her for more than two months during the winter of 1720-21. His story requires some background before getting to Angelina. He had left La Rochelle, France, in August 1719 bound for the French colony of Louisiana. His ship's captain soon lost his way at sea, but a group of pirates corrected the mistake and helped them through the Straits of Florida.
Once in the Gulf of Mexico, the captain again became lost and overshot Mobile Bay and the Mississippi River. The ship ran aground near the mouth of Galveston Bay. Once the ship was freed from the sand bar, Bellisle and four others asked to be placed ashore. They decided to walk eastward toward the Mississippi River and light a fire each night to stay in contact with the ship. The ship abandoned them after the first night, and Bellisle's companions began to die over the course of several weeks.
Alone, Bellisle returned to the bay and survived the winter of 1719-20 living on oysters and "boiled grass." During the early summer, he came across Indians who were collecting sea bird eggs. Happy to see other human beings, Bellisle ran to them, only to be captured with his measly belongings. They stripped him of everything but they gave him eggs and fish to satisfy his hunger.
Despising his situation, Bellisle eventually obtained some paper from one of the pockets of his confiscated coat and wrote a letter using a stick and charcoal and water. He addressed it to the first European who might read it, explaining his plight and begging for mercy. In time, the letter came into the hands of the Hasinai Indians. The Hasinai soon delivered the letter to St. Denis in Natchitoches, who sent two Hasinai warriors to rescue Bellisle.
Hasinai warriors freed Bellisle from his captors and took him to their village, arriving in late November or early December 1720. According to his account, "an Indian woman called Angelica" approached him, shook his hands and spoke to him in Spanish, explaining her great sorrow upon learning of his "bad situation" and "sad state." She invited him to stay with her, because the men of the village were leaving to go to war for a few days. Bellisle could rest and recover from his ordeal and then be escorted to Natchitoches when the men returned.
During his stay with Angelica, Bellisle learned she "had lived with the Spaniards since her childhood. That is why we understood each other so well." He recorded that "she served me all the best she had and she had as much love for me as if I had been her child. I found this treatment so sweet when compared to what I had received previously that in less than eight days I was cured from all my ills." His health restored, Bellisle again became despondent when the men had not returned after several weeks. When Angelica asked the reason for his gloom, he replied that he longed to return to his own country. The next morning, Angelica assembled three horses, enough food for a long journey and offered two of her children to accompany Bellisle as guides to Natchitoches. After about a week's journey, the three riders safely arrived in Natchitoches, where Bellisle felt as if he had returned from the dead.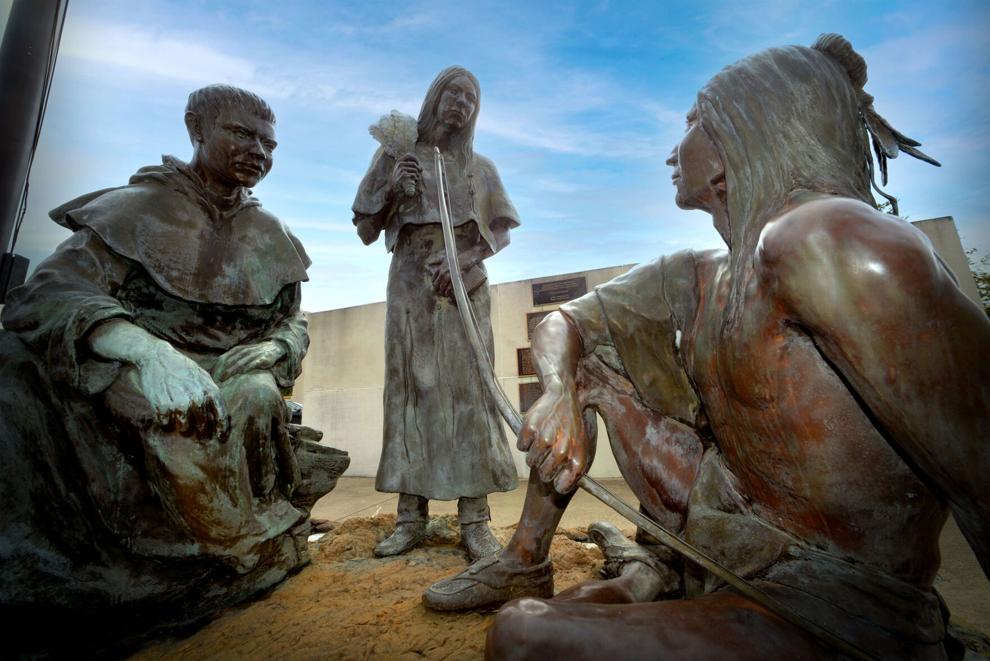 Spanish Sources
While both French accounts offer wild, rollicking tales of misadventure in colonial Texas, the three Spanish records offer more measured details. The French sources are memoirs written after the fact and read like adventure tales, while the Spanish sources are diaries written during the expeditions. These diaries are official records and are primarily strictly factual accounts meant to inform government and church officials about the actions of the expedition leaders and their Indian allies.
The son of the commander of the presidio at San Juan Bautista, Domingo Ramón set out for East Texas in 1716 with 75 people, including priests, French citizens and civilians. The expedition included Louis Juchereau de St. Denis, the Frenchman who commanded the outpost at Natchitoches and had made his way to San Juan Bautista in order to open trading partnerships with the Spanish.
Ramón's religious counterpart on the expedition was Isidro Felix de Espinosa, president of the new missions to be founded in East Texas under the direction of the College of Santa Cruz de Querétaro. This was not his first, nor would it be his last, missionary journey to East Texas, and since his first trip to the area of what is now San Antonio, he had been searching for Tejas Indians to convert. Espinosa kept a diary of his journey with Ramon, and it is in his account that Angelina is briefly mentioned.
The expedition left northern Mexico in April 1716 and by July had made contact with and been accepted by the Tejas in Deep East Texas. They set about the task of deciding, with the input of the Tejas leaders, where to establish their missions. According to Espinosa, "having recourse to a learned Indian woman of this tribe, reared in Coahuila, we gave them to understand, as best we could, the object of our coming." He does not mention Angelina by name, but most believe this could be a reference to her, since one of the subsequent Spanish expeditions that visits the same area does mention a female translator named Angelina.
Following the Ramón and Espinosa expeditions to the Tejas in Eastern Texas, their missions and presidios needed supplies. Spanish officials in Mexico appointed Martín de Alarcón commander of Presidio San Francisco de Coahuila and governor of the Province of Texas and tasked him to resupply the Texas missions. His experience as a commander and leader of expeditions, along with his new title, made him the logical choice to continue the work of Ramon's expedition.
Alarcón's expedition chaplain, Fray Francisco Céliz, a priest from the mission El Dulcisimo Nombre de Jesus de Peyotes in Coahuila served as diarist for the expedition. On Oct. 19, 1718, Céliz's diary records that at the mission La Purisima Concepcion, Alarcón served as godfather to three Indians who were baptized into Christianity. Alarcón demonstrated his largess to the Tejas on this day when, according to Céliz, "… the governor proceeded to distribute clothing to all the family of those baptized, among whom is found the sagacious Indian woman interpreter, who at the persuasion of the said governor came to live with her entire family near the village."
The last recorded mention of the Hasinai woman thought to be Angelina is from the 1721 Aguayo expedition to East Texas. It's the only recorded instance of her being named "Angelina." This expedition, led by the Second Marqués de San Miguel de Aguayo, reestablished the Spanish claim on Texas after the French had attempted to reassert their influence from 1719-20, causing the Spanish to effectively abandon East Texas. In the course of reestablishing missions, building presidios and shoring up alliances with Tejas chiefs, he encountered Angelina, and her name became one that would influence geographic and political nomenclature in East Texas.
Juan Antonio de la Peña, chaplain-major of the expedition and a Franciscan brother, recorded the events of the journey. The expedition left Monclova in November 1720, and de la Pena relates the encounter with Angelina on July 25, 1721. The cacique (chief) of the "Aynay" met the Marques party at their camp on the eastern side of the Trinity River, near San Juan Creek. He brought eight chiefs and four women, including Angelina, "who had grown up at (Presidio) del Rio Grande and (Monclova) de Coahuila." She spoke both "Castilian" and the language of the Tejas and was able to help the two leaders communicate.
So, who was Angelina? The five sources that mention her, either by name or by description, do not offer enough information to make a definite answer. She is given a name in three sources, but it is a different name each time (Angelique, Angelica, Angelina), although it is very similar, meaning angelic or little angel or some variation of an angelic being in both languages. All five sources agree she spoke Spanish but do not agree where she learned it. In all five accounts, Angelina speaks Spanish and willingly interprets for the European visitors and serves as intermediary between the Tejas chieftains and the expedition leaders. In all five accounts she also, most likely, is a grown woman, since she seems confident in the presence of men from the European and Tejas groups, is called "learned" and "sagacious" and,, according to Bellisle, had children old enough to guide him to Natchitoches.
We can say, based on research, that Angelina was probably a Native American woman who spent a significant part of her childhood in Coahuila, where she learned Spanish and became familiar with European customs. She ended up in East Texas among the Hasinais, where she had a family and interacted with at least five groups of Europeans as they navigated through the Tejas world and culture. Since the Aguayo expedition effectively ended French incursions into East Texas, the Spanish names for people and places in the area were the ones that fell into official use, and thus we know her as Angelina, not Angelica or Angelique.
With the Americanization of East Texas that followed American settlers and led to Texas' independence from Mexico and eventual addition to the United States, much of the Spanish history of the area has faded from memory and the French influence is almost unknown. Angelina is unique in that her name, which is Spanish, reminds us of the three great cultures that influence the early history of the region. A native woman who interacted with the Spanish and French, her influence was honored, first with the name of the river that ran through her people's land and second in the county that bears her name.
To read the full article, visit our friends at The History Center in Diboll at 102 N. Temple Drive Diboll, TX 75941 or go to their website: thehistorycenteronline.com.