Those who never venture beyond the neon hotel signs and casino lights of Shreveport, Louisiana will miss the real, vibrant and growing city.
Within two weeks of moving to the south, I learned of Shreveport's reputation as a gambling town and quickly moved it down on my list of places to visit. I've never been much of a gambler and figured any hidden gems would be far too difficult to find, let alone enjoy.
In May, Chris Jay, the director of the Shreveport-Bossier Convention and Visitors Bureau, reached out and offered to take me and a few other journalists on a culinary tour of the city. After making sure Chris was not a serial killer luring me to his white stalker's van with the promise of stuffed shrimp and homemade gumbo, I began preparing for the trip.
I can't say I wasn't excited; I love to travel, especially for the sake of discovering new food. So I remained optimistic that a local would know what he was talking about.
Billboards lining I-20 east for the last 23.2 miles to Shreveport do little to portray Shreveport as part of the "foodie haven" Louisiana is purported to be. And stringent Google checks failed to shake the concern I had of spending the next three days in food H-E-double-hockey-sticks.
However, after three days exploring the city with a local and three absolutely fabulous fellow foodies, my mind was forever changed about Shreveport.
Day One
We stayed at 2439 Fairfield: A Bed and Breakfast. It is run by proprietor Jimmy Harris and Brian Resmundo and is located along the historic Fairfield Avenue — a street worth driving down even if you can't get a room at one of the three bed and breakfasts there.
I was forewarned that the charm of 2439 Fairfield was not the sole reason for staying there. Jimmy's fried pies were. But they'd have to wait until day three.
After the group fully formed at Fairfield, we headed off to Great Raft Brewing for a much needed post-travel beer. Great Raft Brewing is Shreveport's first brewery since Prohibition, and the owners seem to take that fact seriously.
Personally, I loved the atmosphere and could have spent the rest of the night there, drinking beer and playing the many available board games. But the call of Ono's Hawaiian Grill was far too strong for my compadres, and we moved on.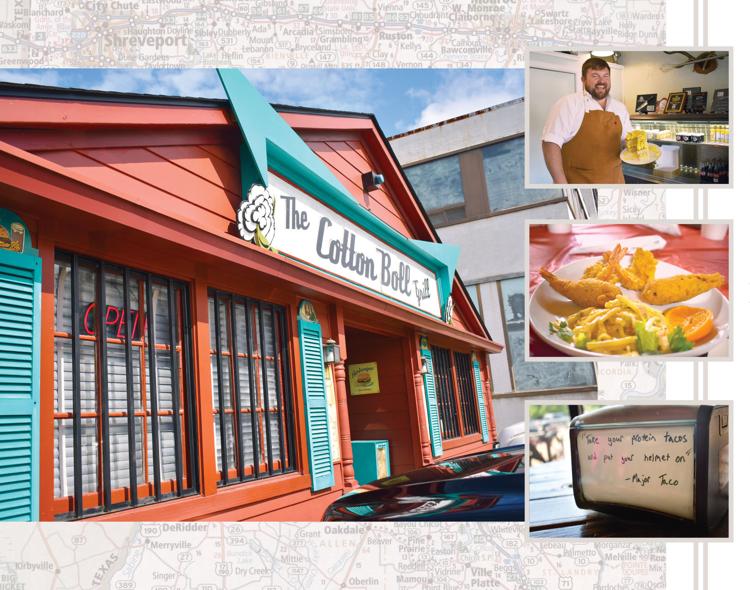 Ono's may have been a bit of a miss for me except for quick thinking on the part of the owner, Sione Maumalanga. At the end of the meal — of which my companions savored every bite — he brought out five large wine glasses where he cut up bits of his favorite deserts and combined them into one deliciously sweet treat. It was a pineapple creme brulee with Polynesian doughnut bits. Aloe leaves, strawberries and whipped cream served as the garnish.
I. Ate. Every. Bite.
Day Two
I realized quite early on that I should have paid closer attention to the tour itinerary on day two. After the third stop I was stuffed, with several more stops to get through. I'm pretty sure we ate upwards of 20,000 calories, and none of us felt shame at needing to loosen our belts by the end of the day.
Our first stop was the Cotton Boll Grill, an 80-year-old diner that brought back memories of eating breakfast with my grandpa. I'm tearing up as I write it now because, before his passing, he and I talked about all the places he might like to see in the South. This would have been one of them.
While I wasn't dissatisfied with any part of it, the standout item on my plate was their hot water cornbread. Growing up, no one in my family really ever made cornbread. So the idea of a different type of cornbread was as foreign to me as eating guinea pig in Peru.
Chris had really built it up by this point, which probably made it all the more remarkable, but whereas normal hot water cornbread is smoothed into a sort of disc shape (so I'm told) this cornbread was pinched, making some parts more crunchy while leaving the center soft. Paired with some butter, it was delectable. I plan to make it myself and use honey butter.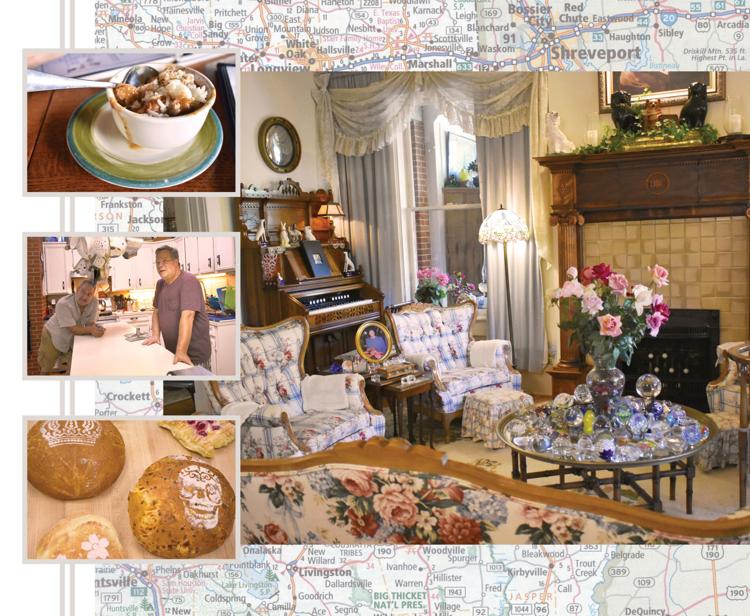 As much as the hot water cornbread stood out to me, nothing compared to the stuffed shrimp at two of Shreveport's most historic restaurants (Orlandeaux's Cafe and Eddie's Restaurant). Now, this was the part of the itinerary that I dreaded the most. Ask anyone. I. Hate. Shrimp. I feel like I'm eating tiny bodies (because I am). Just give me a large, indiscernible chunk of cow, and I'll be fine.
While most people connect stuffed shrimp to what you eat at weddings, Shreveport is building a reputation for it, in part because of these restaurants. The way they stretched it out, blanketed in breading and spices, and then threw it in the deep fryer made me fall in love.
It may be that I can only love the shrimp made by these two restaurants, but I'm excited to find out.
While waiting for our second helping of stuffed shrimp at Orlandeaux's, the server brought out small bowls of gumbo. My friends were well accustomed to gumbo, and while I've always liked it, I've not had a ton of it to say I know what "goes in gumbo." So while everyone was enjoying small bites of theirs (remember, 20,000 calories that day), I dug my spoon down to the bottom and was surprised to feel something hard.
Now, there is little as nerve-wracking as dipping your spoon into a soft substance to feel something hard that is not your bowl, but when a giant crab claw rose to the surface I was mostly confused.
Chris told me to pick it up and suck the meat off the end, and that was easily the best decision I made all day. I've had crab dipped in butter (the tiny bodies rule does not apply to crab), and I've had crab on sandwiches, but crab meat soaked in gumbo stew is something new to crave.
Despite being extraordinarily stuffed, we ordered crab claws in a sort of green pesto sauce at Herby K's later that day so I could fully enjoy this newfound love. Anyone reading this may think I'm a crazy Northerner for loving this as much as I did. That's fine. Also, if you find yourself in Shreveport looking for a shrimp buster, hit up Herby-K's.
Trust me.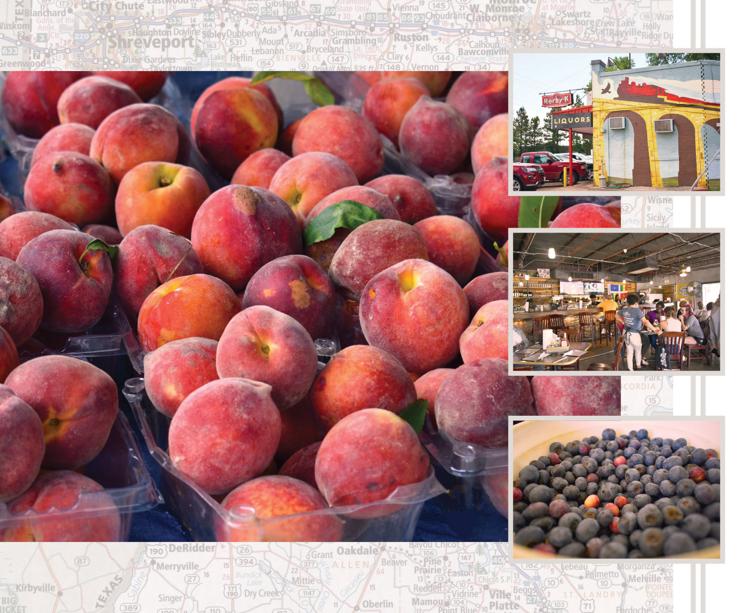 Day Three
Chris, in all his infinite wisdom, did us the kindness of scheduling a more active, less calorie-heavy day while we fought the food bloat from day two.
I woke up early and ready for the delicious fried pies I was promised. While Jimmy and Brian made us an excellent breakfast, all that comes to mind from that morning was the perfect blend of crunchy and soft flakiness that enfolded homemade fruit preserves. It was worth the wait, but I wouldn't recommend waiting if you can help it.
We spent mid-morning at the Shreveport Farmers' Market and then made our way to Blueberry Hill.
Walking through line after line of blueberry crops is maybe one of the easiest ways to relax and just enjoy a simple, natural task. While we all knew we were supposed to bring home content to publish and were going to stress about deadlines sooner or later, at that point we were relaxed and happy. Thank you, Chris Jay.
After we were all sufficiently dehydrated and sunburned, we hit up Ki Mexico for a late lunch and then the Lowder Baking Company.
I have a bit of a soft spot for bakeries, primarily because I have not figured out how to make my own bread as well as theirs, and I feel a distinct need to continually compare myself to professionals. It's fine. I'm fine. And so was their bread.
It tasted great, and I was amazed by the designs they included in the flour on top. One loaf was decorated with a beautifully detailed sugar skull and another with an ornate crown.
By the end of day three, we all became much better friends, and were bushed. So we found a nice wine bar and spent the night drinking, enjoying light meals and laughing about the rest of the day.
Day Four
I spent most of day four on the side of a highway with my broken down car, waiting on my boyfriend, a tow truck and crying like a baby over a vehicle I love far too much.
But, before all the sadness and despair was a morning brunch at Marilynn's Place and a trip to the R.W. Norton Art Gallery.
Marilynn's owner and chef Robert "Boz" Baucum gutted the inside of a service station to build a unique brunch location. Upon arriving, he loaded us up with wristbands that would let us drink 'til we drowned, so I made sure to enjoy a few of his recommended beverages.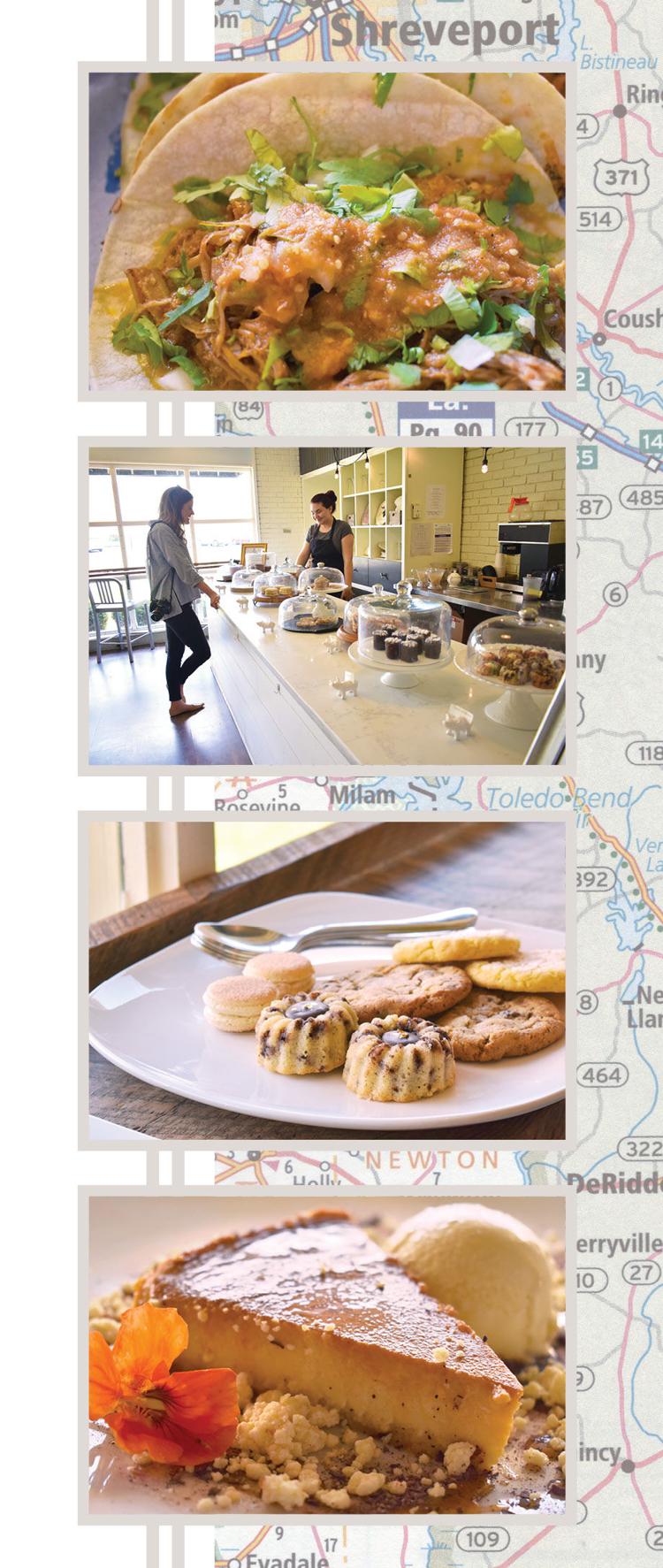 We served ourselves buffet style — I had flatbread, spread with schmear and topped with smoked salmon and a healthy serving of watermelon basil salad.
Afterward, I said goodbye to my newfound friends. Two would stay in town another night and one had a very long drive ahead of her. I had my sights on the art gallery, though.
The R.W. Norton Art Gallery is a free gallery that is home to iconic artwork by more than 100 award-winning artists, classics and even historical items from some of man's earliest history. It is surrounded by acres of fully manicured gardens that are home to a million different types of plants and flowers.
I spent 45 minutes or more hunting down the world's most expensive gun with an armed security guard. I think we both felt it worth our time.
My only regret was that they do not allow photography on site, so you will actually have to visit Shreveport to see it.
I think there is something to be said about a community that is overshadowed by a certain reputation but is still building something different to be proud of. While I'm sure gambling is fun and the flashy hotels are great, don't forget there is so much more beneath the surface.