Editor's Note: Sadly, as we were going to print with this issue, we learned that this gentle giant had passed away. We were so grateful to meet Doug and spend an evening with him and his foster mom, Dianna Hale. He was such a good boy and will be sorely missed by all who knew him.
Doug's favorite thing to do is to munch on an ice cream cone at the Polk Pick-it-Up on state Highway 94 with his foster mom, Dianna Hale.
The 11-year-old Great Dane had many happy years with his family and in that time he learned what he likes — lovin's, soft stuffed animals he can tear to shreds, ice cream and peanut butter. And when it came time to find him a new family it broke his mom, Jessie Baugh's, heart.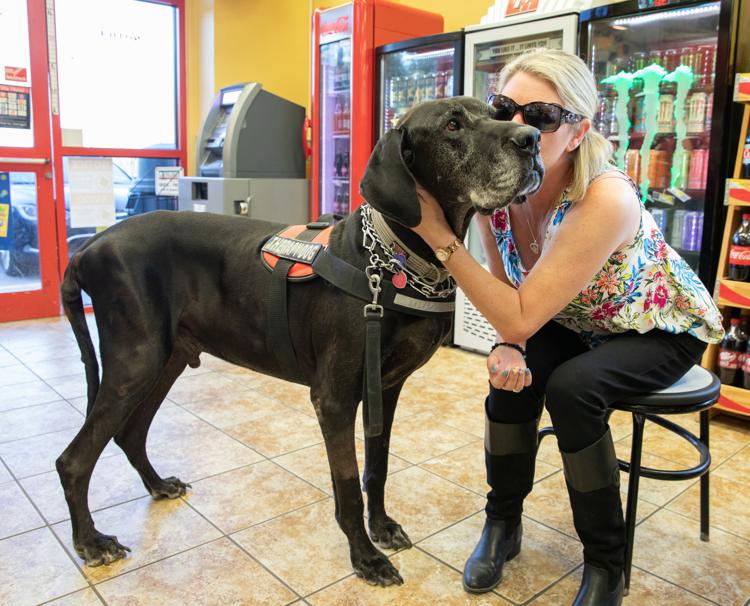 Baugh and her husband work in various positions for the U.S. military and for years before leaving for their next posting in Alaska, they were stationed in Texas.
"We miss him terribly — especially my husband because he's my husband's best friend," she said. "We try to send him packages and his favorite food is peanut butter, so we try to always send him peanut butter."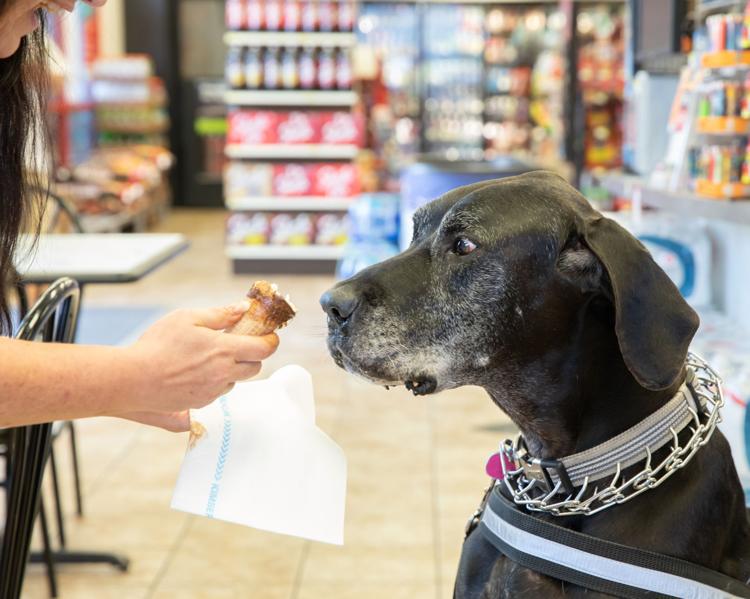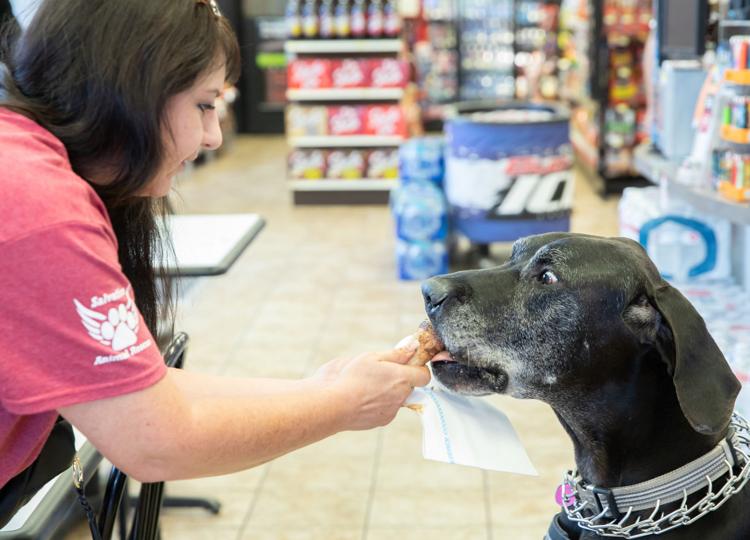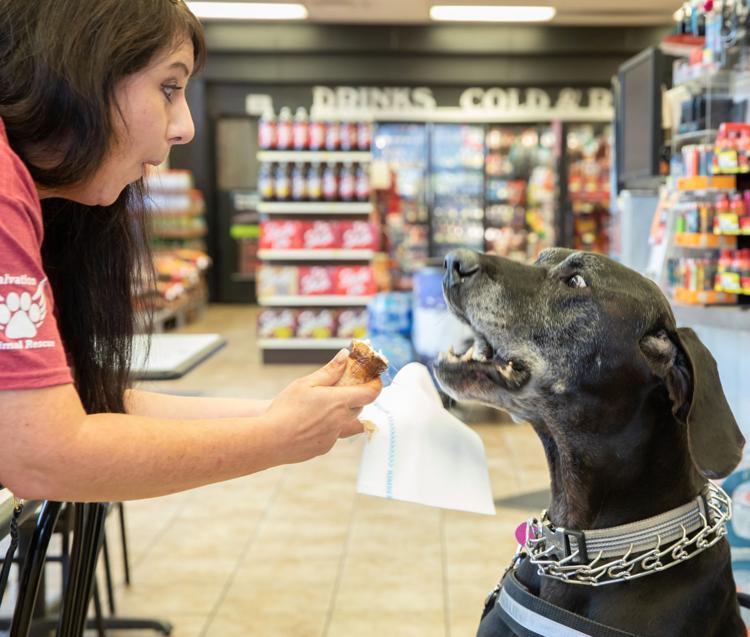 Hale runs Salvation Animal Rescue with Yvonne and Pam Smith. Yvonne and Pam are related to Baugh, so it seemed like a natural fit, Baugh said. But that doesn't mean she didn't spend a lot of time making sure Doug would be happy.
"She sent me a message because they were getting ready to go up (to Alaska)," Pam Smith said. "She knew she could trust us, and after watching everything we do, she asked if we would take care of him."
Because he is so old, Baugh was worried about how the transition to Alaska would impact him. She didn't think it would be wise to make him endure such a drastic move, especially because he wouldn't be comfortable or happy in the area of Alaska they were going to be stationed.
"Our temperatures get down to negative 60," she said. "And with him getting older, the vet told us it wasn't smart to bring him up here because of his arthritis and his age. It would have been very, very hard on him."
Doug was bred by Baugh's parents, so before being taken on by the rescue he had only known one family.
"I had him and his brother since they were babies," she said. "He didn't know anybody but us, he's been our family pet since day one."
His brother died a few years ago, she said.
The large, sweet dog has been at the rescue for two years and since then, he has been given an even bigger family. Hale also had him certified as a service dog and he works to bring happiness to the elderly, sick, those displaced by natural disasters and children, Hale said.
"His family trained him very well," Hale said. "So he could do everything. He passed all the tests with flying colors. … I just had to teach him I was his handler, not someone else."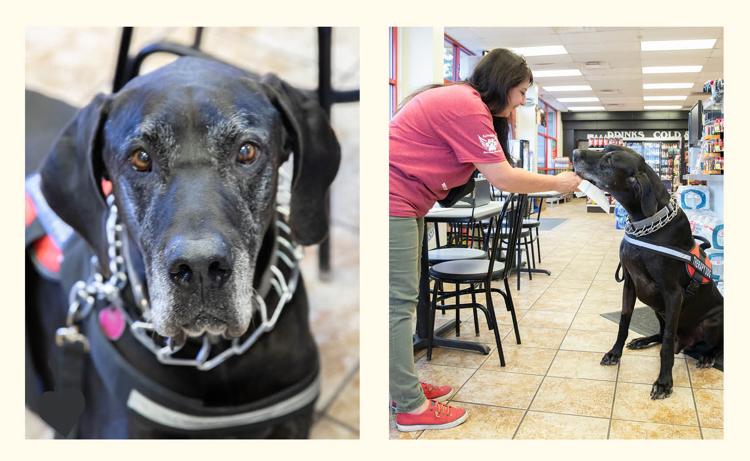 When Doug started getting sick at the beginning of October Hale brought him to a veterinarian, where they gave her the option to either euthanize him or give him a lot of medicine. She realized he was still fighting and wanted to live, so she is taking the extra steps to keep him as comfortable as possible, she said.
"Before we got sick we came at least four times a week (to Polk's)," Hale said. "He likes to watch people. But he can't sit for long. … This is it for him, so he can come and watch people, interact with them, and he gets his ice cream."
He is the most loving, well-mannered dog she has ever fostered or known, she said.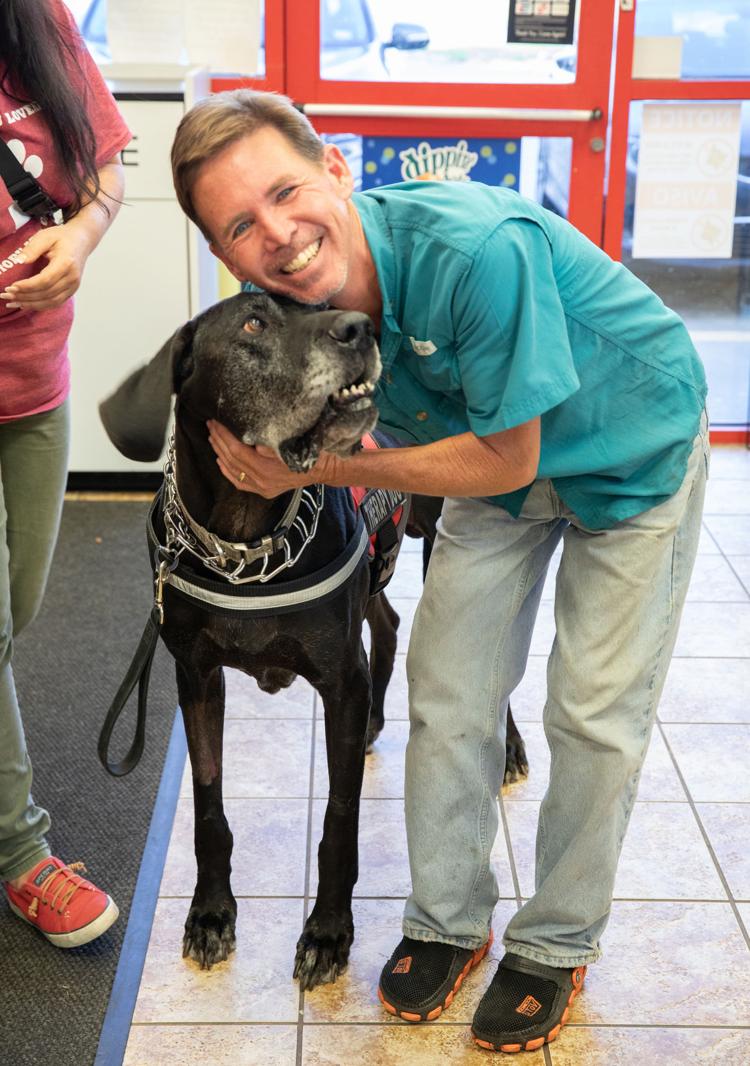 If his family is stationed back in Texas before he passes on, Hale will happily let him go back to living with them, but for now the rescue will keep taking care of him as their own, she said.
For anyone who sees Doug out on the streets, he is a friendly and happy dog and loves attention. However, Hale asks that anyone who wants to pet him ask her first. He won't hurt anyone, but she doesn't want to startle or make him uncomfortable either.
She said that as a general rule of thumb, any dog you see on the street should be approached with caution and respectfully. They may not be mean, but it's always better to ask their owner first.