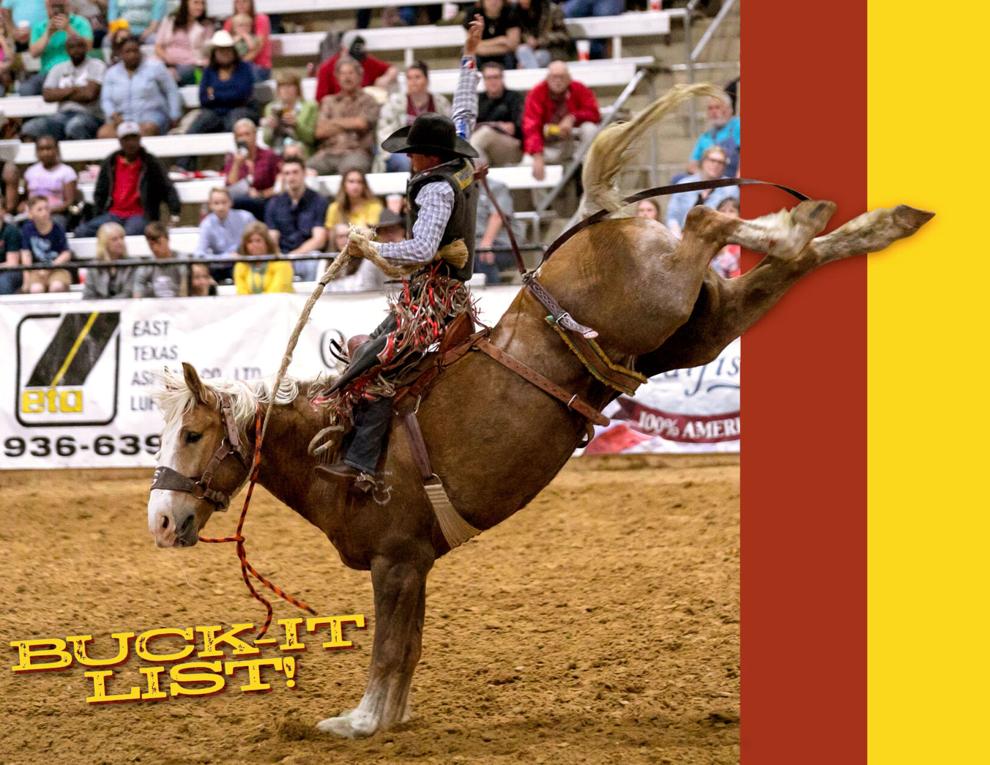 The Angelina Benefit Rodeo is set to bring "The Greatest Show on Dirt" to Lufkin's George H. Henderson Jr. Expo Center April 21-24.
"The Angelina County Benefit Rodeo will have the dedication of the Lions Clubs members that volunteer their time to make this show the best at a cost that's affordable to everyone," Jeff Harkness, 2021 Lufkin Host Lions Club president, said.
"This rodeo is one of a kind,'' he said. ''The proceeds go right back into the community, like the Lufkin State Supported Living Center, the community food drive and the Communities Cinco de Mayo, to name a few. It's an honor that we can bring this to the community."
Proceeds from previous rodeos have helped the Lufkin State Supported Living Center build a new pavilion and restroom for the residents, as well as providing digital X-ray equipment so that the residents can have X-rays onsite.
Before every benefit rodeo, the Lufkin State Supported Living Center chooses a resident to be a Rodeo Hero.
"The Rodeo Hero has a terrific opportunity for the community to learn about the incredible residents that live here and how the support makes a difference in their lives," Lynn Hopper, Lufkin State Supported Living Center director of community relations, said.
In addition, their employees volunteer to help with the event and the residents get to attend as spectators.
"It's a wonderful chance to get to engage with the community,'' Hopper said.
Barbara Berliew is this year's Rodeo Hero.
"I am absolutely excited for my sister to get to be the Rodeo Hero," her brother, Robert Berliew, said. "I am very thankful, as her brother, to see the Angelina Benefit Rodeo and Lufkin Lions Club teaming with the Lufkin State Supported Living Center."
This year's show will feature Cowboy Kenny's Steel Rodeo, in which two men on motorcycles will perform tricks and flips every night. Rodeo coordinator Mike Mathis said the two men typically perform for the X Games and have won medals there.
"The crowd will see some pretty amazing motorcycle work in our expo center," Mathis said. "All of the crowd, from the youngest to the oldest, truly enjoy watching these guys."
Other events include bareback riding, steer wrestling, team roping, saddle bronc riding, bull riding and barrel racing, along with a variety of other rodeo favorites. Mathis said to expect 500-plus world class rodeo riders to attend and put up a good fight for the best scores.
"We will have more participants than will fit in the rodeo; we will have to run slack," Mathis said. "This is a professional event. We are sanctioned by the Professional Rodeo Cowboys Association and Women's Professional Rodeo Association — this is the major leagues of professional rodeo."
The purse is set to reach nearly $100,000 and is expected to attract riders from at least 30 different states, as well as Canada, Australia, Brazil and New Zealand.
"To go with that, we will also have rodeo's nine-time Clown of the Year, Justin Rumford, from Ponca, Oklahoma," Mathis said.
There also will be a "Truck for a Buck" raffle for the chance to win a 2021 Jeep Gladiator.
The show starts at 7 p.m. each night. Ticket prices are $8 for general admission, $11 for upper reserved seats and $13 for lower reserved seats.