As a 9-year-old girl, Sandy Schmidt's mother taught her how to sew. She made her sisters' clothes growing up and has made dozens, if not hundreds, of finely detailed quilts.
Twelve years ago, Sandy Schmidt had her talents put to good use. She was a regular the Angelina County Senior Citizens Center, and while taking an art class there, she stumbled upon a closet full of fabric. When a member of the American Legion Auxiliary asked if Sandy could make some pillows out of the fabric to send to the boys overseas, a ministry was born.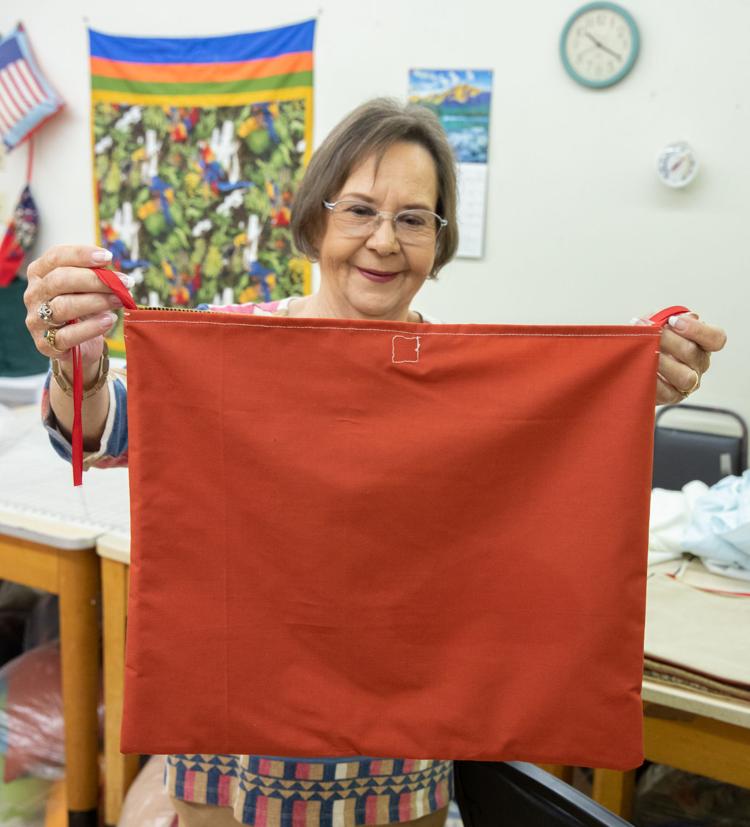 More than a decade later, 78-year-old Sandy and her group of friends — now called the Sew and Sew Sisters — spend around 10 hours a week at the Senior Citizens Center laughing, talking and sewing. By 10:30 a.m., Schmidt had already tacked three lap throws and whip stitched six pillows.
On this particular Tuesday morning, she sat surrounded by a mound of pillows and materials, a fan pointed her way to stave off some of the hot, muggy air hanging in the room. She was right in her element, bragging on volunteers who stuffed pillows, but who had since passed away or became too busy or sick to help anymore; and about her friend Diane, who had learned how to quilt in the past few years. "You talk about gorgeous. They are gorgeous. She is so talented." She also bragged on Betty Johnson and her husband Bob, the couple in their 80s who help sew hundreds of telemetry bags each month. "He does the sewing," she whispered conspiratorially. "Magnificent sewing. I mean, make you jealous."
The Sew and Sew Sisters "plus one gent" made 435 Christmas stockings this year to send to the VA Clinic in Houston, plus 25 more for deployed soldiers. In September, they made 1,300 telemetry bags, which are used to carry heart monitors and then later for personal belongings, like cellphones or "shaving gear." Diane Blake, another Sew and Sew Sister who Schmidt had dubbed "the boss," had cut out 2,400 more telemetry bags over the past few weeks. They routinely send 70 to 80 "hug" pillows for heart surgery patients, and they also make bags to fit on wheelchairs and walkers, "ditty bags in assorted sizes" and blankets to place on the laps of veterans who are wheelchair-bound.
Sometimes it seems the donations won't keep up with their flying fingers. Nevertheless, Schmidt assured that blessings abound.
"We are just so blessed. We are out of stuffing, and we just happened to mention it to a lady, and she blessed us with a 'Benjamin Franklin.' I'm telling you, when you're in need, God sometimes just opens a door, and it's there. That gives us money to buy four more boxes (of Poly-fil stuffing)."
Story after story was shared about help showing up at just the right time. Sewing machines have been donated over the years. Thousands of dollars have been given to purchase materials, many times out of the Sew and Sew Sisters' own pockets. Tens of thousands of hours have been spent stitching and sewing and stuffing.
"We'll come in sometimes, and there will be seven boxes of fabric sitting at the door," Schmidt said. "I don't know what we'd do without people blessing us like that because it has helped tremendously."
And absolutely nothing goes to waste.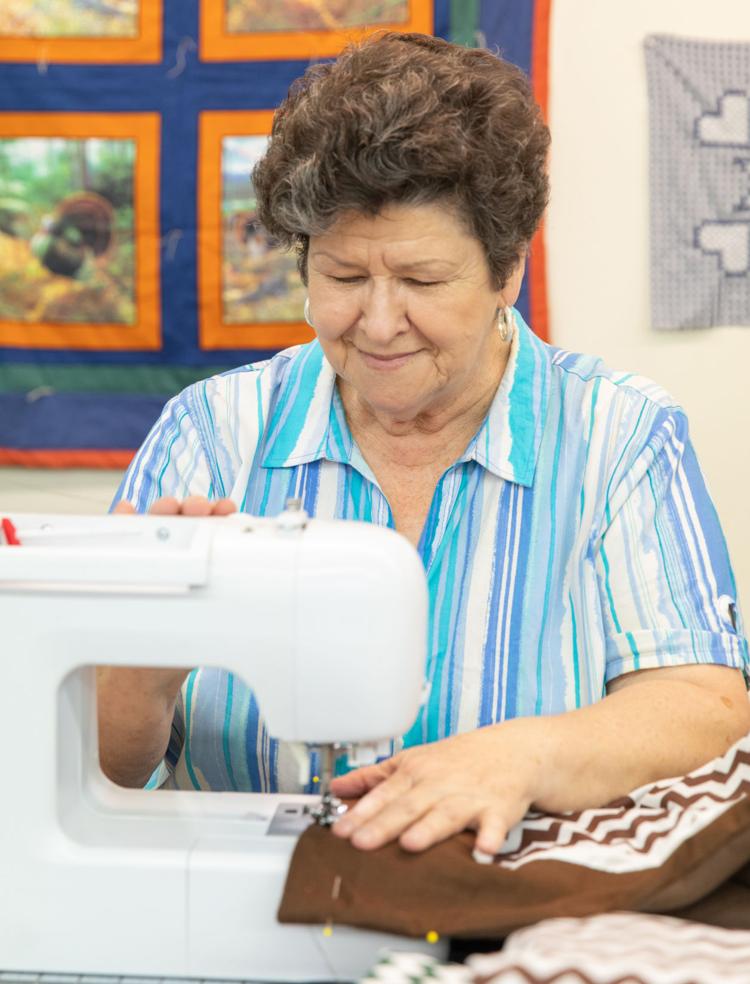 "If it's something we can't use, we'll pass it on. We've given to the Methodist church in Huntington. They make for foster kids, and if it's something we can't use, we pass it on to them. We've given several boxes of what's a little too thin to make lap throws, but I've given it to the lady at Providence Church and she makes pillowcase dresses for the Philippines. We don't waste anything."
In a room across the hall, shelves are stuffed with a variety of toiletries and goodies ready to be put into boxes and shipped overseas.
The American Legion Auxiliary was originally chartered in 1926, and the program was revived in 2005 with the help of current president Rita Redd. The group is made up of veterans' spouses and female members of their immediate family. Their ultimate goal is to help veterans. One way they do that is to provide sandwiches at the Lufkin VA Clinic each month. They also send care packages to locals serving in the military through the "We Care" program, which began in January of 2006. At that time, 100 boxes were being sent each month.
"Right now we don't have very many names, but we're still sending them," Redd said. "If you know anybody who is deployed, send us their name and addresses. Our boxes are packed specifically for sharing."
Maryanne Theriot, an American Legion deputy who is in charge of packing the boxes, said she uses anything she can find.
"We try to send things that they can use. It's usually toiletries, like toothpaste, deodorant, soap. During the summer, we try and send the lip balm and foot powder," Theriot said.
As with the Sew and Sew Sisters, the American Legion's projects and programs greatly depend on donations and the kindness of strangers.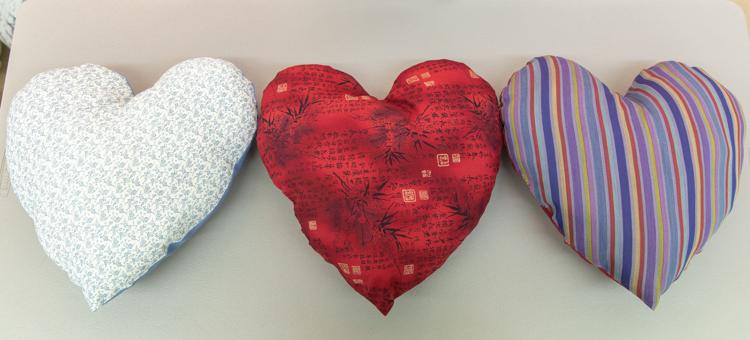 "The vet project is a worthy project. You can never, ever do enough to pay a vet back for what he sacrificed for you. Not only that, his family has sacrificed, too. Whatever we can do … ," Schmidt said with tears welling up in her eyes. "No matter what you do in life, you can never out-give God. Because of his blessings on us, we're able to do something for somebody else. It's just fantastic how it just goes around in a circle. This is the most wonderful thing in the world to do."
If you would like to donate to either cause, please contact Redd at (936) 674-7347 or ala113@consolidated.net.