Bob Sealy grew up in a cattle ranching family from Central Texas. He was born in Fairfield, then ended up in Mexia by way of Thornton.
"In high school, all of my buddies on weekends would go fishing and partying. My dad was a workaholic. I was building fences, hauling hay, working or hauling cattle — it's just the way it was."
His grandfather, who lived on Lake Mexia, was the one who actually taught Bob how to fish."
After he graduated high school, Bob lived in Mississippi and worked in sales for a vacuum cleaner company.
"I'm a people person, and I loved sales," he said.
Later, he went to work for Southwestern Bell Telephone in Tomball. He became smitten with his co-worker, Donna.
"She's a city girl and I am a country boy. You teach me city life and I will teach you country life," Bob said of meeting her.
The couple married and ended up in Chicago, where Bob was selling ladies shoes at a store in the mall. A gentleman, his wife and two kids came in to buy the wife a pair of house shoes.
"By the time they left, I had sold her a pair of house shoes, and six other pairs of shoes."
Her husband was a real estate salesman for a resort in Rock City, Illinois. He saw Bob's potential and quickly invited him to come and take a tour of the resort. Bob ended up with a piece of property and a newfound desire to sell real estate.
"I was so intrigued with the facilities and the operation, I decided I wanted to sell real estate," he said.
Bob was introduced to the sales manager, Pat O'Neal, who walked him through the process of becoming a salesman with the company.
The first week Bob went out on sales, he ran three leads and closed all three deals.
"In that weekend, I made more money than I made the whole year before. It got my attention," he said.
Bob was the youngest salesman in the company and quickly became the top salesman, closing the project out.
Once that project closed, O'Neal happened to be working on the Rayburn Country development.
"They always called me 'The Kid from Texas,' because I had a drawl," Bob said. "I wasn't a Yankee."
O'Neal wanted to know if "the kid wanted to come back to Texas." In November 1969, O'Neal flew Bob down to check out the project.
"When I crossed that dam, it was over. I knew exactly what I was going to do," he said.
In the early 1970s, Bob decided to become a pro fisherman. Bob started fishing the B.A.S.S. (Bass Anglers Sportsman Society) events and toured for several years. He befriended Ray Scott, founder of B.A.S.S., who is credited with bass fishing becoming a competitive sport.
"I admired and respected what he did. I had this vision I wanted to do what he was doing, but I knew that I couldn't compete with him. He had strictly pros," Bob said.
Bob and Donna spent some time brainstorming different ideas before deciding on the concept — Family, Fishing and Fun — with the idea being a completely amateur tournament promoting family, with hourly payouts for fish.
"I wanted to give the amateurs the same opportunities of what pros are doing," he said.
And so they did. In 1984, the first Big Bass Tournament kicked off. It was a family affair for the Sealys, with two of their children, Brandon and Nicole, helping out. While they all pull their weight to pull the events off, Bob and the kids all agree — they couldn't do it without Donna.
"She has awesome ideas," Bob said. "She just doesn't get enough credit."
Originally, the event was sponsored by a locally owned business, but Bob needed a corporate sponsorship. Word got around, and the owner/operator of McDonald's in Jasper reached out to set up a meeting with Bob. The two met and the owner quickly agreed to sponsor the next tournament, with one condition: The Ronald McDonald House would be the recipient of the tournament's charitable donations.
"I never knew what the Ronald McDonald House was," Bob said. An appointment was made for Bob and Donna to tour the facility in Houston.
"I walked in that Ronald McDonald House. It didn't take very long. That's a unique experience and what they're doing for families and for kids while they're being treated for catastrophic diseases in the hospital."
The first year, The Big Bass Splash had 694 anglers. The second year grew to 892 anglers. By the third year, they had 2,237 anglers — the biggest tournament that had ever been held.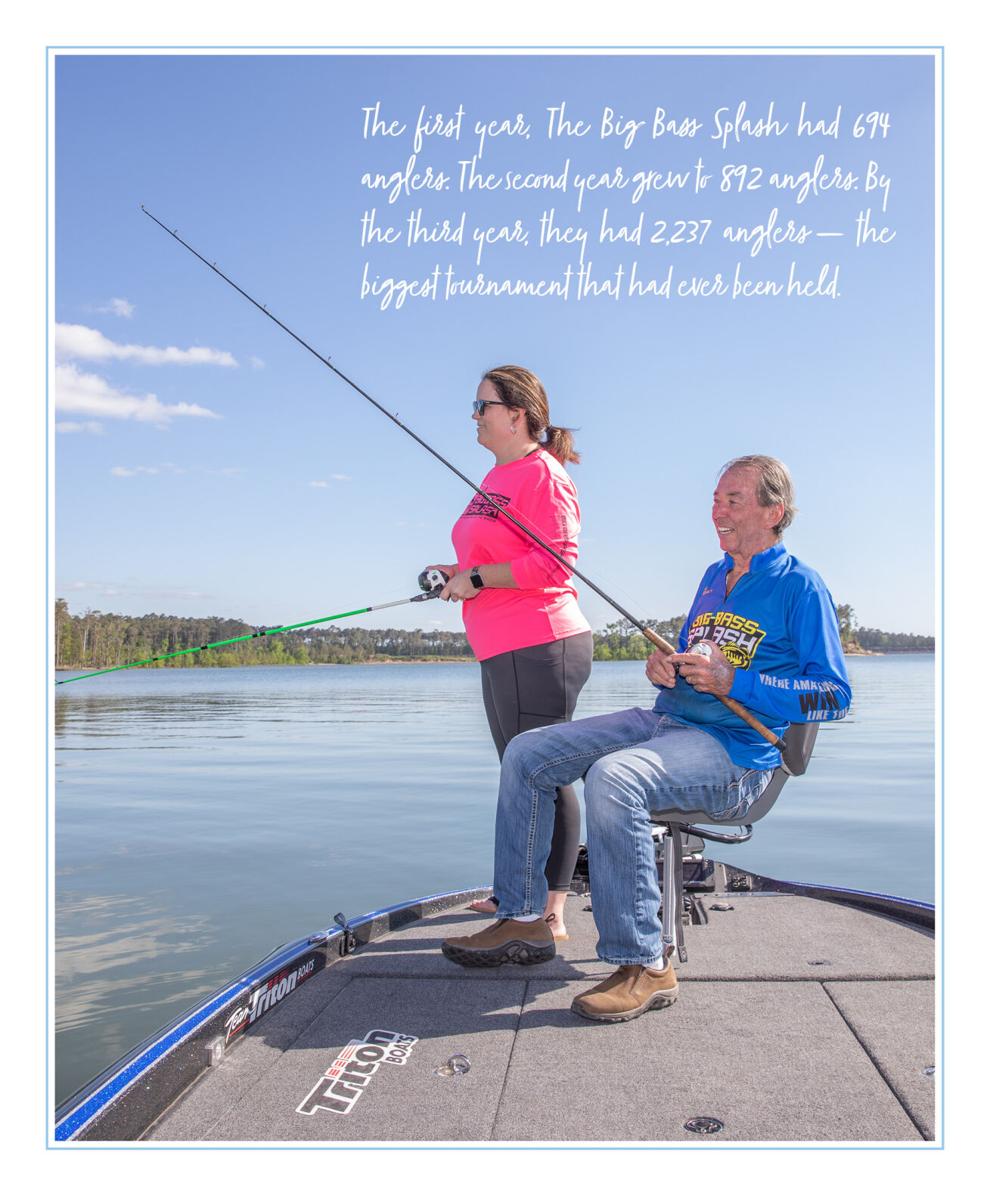 Riding the wave of the first couple of years of successful tournaments, Bob flew to Chicago to seek corporate sponsorship. Without an appointment, he walked into Hamburger University, the headquarters of the McDonald's Corp.
Bob asked the receptionist to meet with someone in marketing about McBass. (McBass is the nickname Bob had been given by tournament anglers.) The receptionist was puzzled.
"McBass. That's M-C-B-A-S-S. That's a fish. I just need to talk to someone in marketing," he told her.
A rookie in marketing came down and agreed to allow Bob to play a four-minute presentation. About a minute and a half into the presentation, the rookie stopped Bob and asked him to rewind it.
He called two more people in. Bob hit play again. At the same point of the presentation, they called more people in. Within three and a half hours, Bob had the ear of the McDonald's senior vice president of marketing, an attorney, four other marketing people and the director of a Ronald McDonald House.
When they finally listened to the full presentation, the senior vice president asked what Bob wanted from them.
"I just want a licensed agreement from y'all that I can go anywhere in the U.S. and put on a Big Bass Tournament to benefit Ronald McDonald House," Bob said.
Perplexed that Bob wasn't looking for money, the senior vice president told the attorney to get Bob what he needed. It was a done deal
"That's how it really begin," Bob said.
Word got out and they started getting calls from McDonald's in Oklahoma, Louisiana and Arkansas requesting Bob to bring the event to their areas.
In 2009, to celebrate its 25th anniversary of the tournament, Big Bass guaranteed a million-dollar payout, with one fish being worth a quarter of that. It was the largest tournament ever held. It drew 7,552 anglers from 42 states and seven foreign countries. It drew more than 30,000 attendees and headlined Blake Shelton in concert. The highest-paid pro fisherman, Kevin VanDam, was there to present the trophy to the big winner.
"That's where our slogan came about: 'Where amateurs win like the pros,'" Bob said. "It made a huge statement."
In 2019, Big Bass upped the stakes to commemorate its 35th anniversary, guaranteeing $1.2 million in payouts and breaking more records. The Bass Masters Classic, which is the world championship for pro fishermen, pays out $300,000 to its big winner. The winner at the Big Bass 35th anniversary tournament, an amateur, was awarded $305,000.
Bob shared countless stories of winners who have had their lives changed.
"We've got a lot of stories about people that have won. I have seen kids, who are now grown and married, and have their own kids," Bob said.
"We've made a lot of history changing peoples' lives. It's meant a lot to us," he said. "I count my blessings that we are doing what we do."
While the tournament winnings are oftentimes real life-changers for the anglers who win them, so is the education about the charity organizations the tournaments benefit.
Bob cited the experience he had with an angler from Alabama who had never heard of the Ronald McDonald House. The angler had fished the tournament and witnessed Bob presenting a check to the Ronald McDonald House in Birmingham.
"Two weeks later, his daughter had to take his grandson to the hospital there. They stayed at Ronald McDonald House. He went and visited," Bob said. "He came back and wrote a very nice letter and put a $5,000 check in there to give to that Ronald McDonald House."
"There is a lot of stories and outside contributions that have happened because of our efforts of educating people of what it's all about," Bob said.
The Big Bass Splash Tournament has raised millions of dollars for Ronald McDonald House and its has since added St. Jude Children's Research Hospital to the organizations it benefits.
"We think we're helping out a lot of families and a lot of kids," Bob said. "To me, it makes the whole thing — everything — worth it."
Bob's efforts haven't gone unnoticed in the industry. In 2014, he was inducted into the Legends of the Outdoors Hall of Fame. In 2017, Bob was inducted into the Bass Fishing Hall of Fame.
As far as the future legacy of Big Bass Splash Tournament. Bob has no plans of letting up. In fact, every year they get bigger and better, living out their phrase: "You ain't seen nothin' yet!" And should Bob not be able to continue the standard of events they have created, he's not worried.
"Nicole is really devoted. If something happens to me, I don't have to worry about the legacy continuing on," Bob said.
You can find out more about Sealy Outdoors and Big Bass Splash tournaments at sealyoutdoors.com.