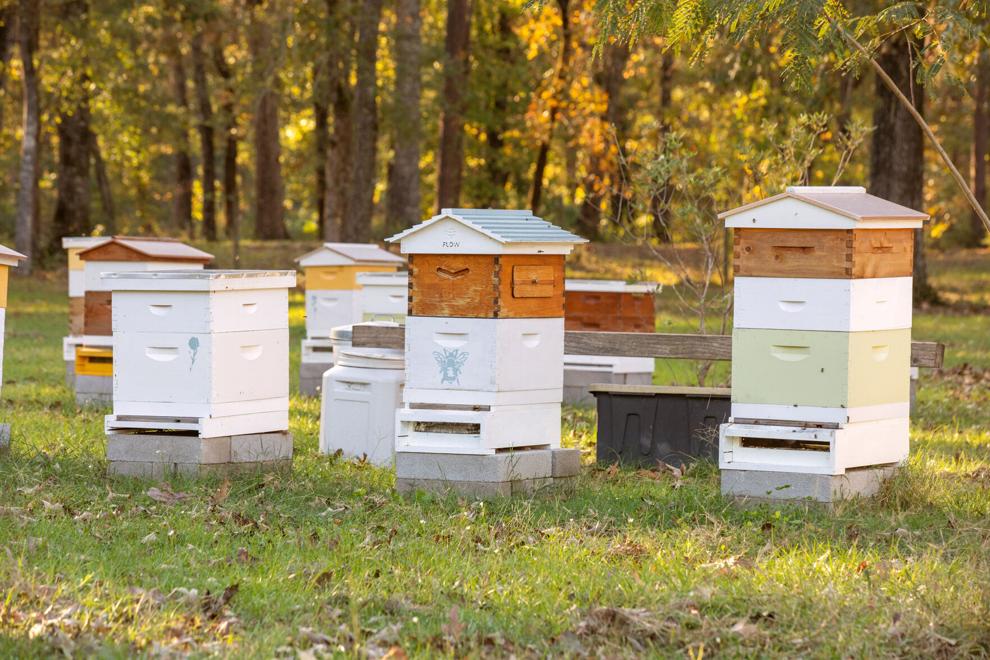 Rows of fruit trees, two playful, energetic dogs, numerous chickens, wandering peacocks and bee hives — 34, to be exact — greet visitors to Mel Terra Farms.
When David and Theresa Guy first moved to the Hudson property about eight years ago, they began adding the fruit trees because it seemed like a shame not to use the land, David said. They also wanted their kids to have the responsibility of growing plants and to see the process of how things are grown, Theresa said.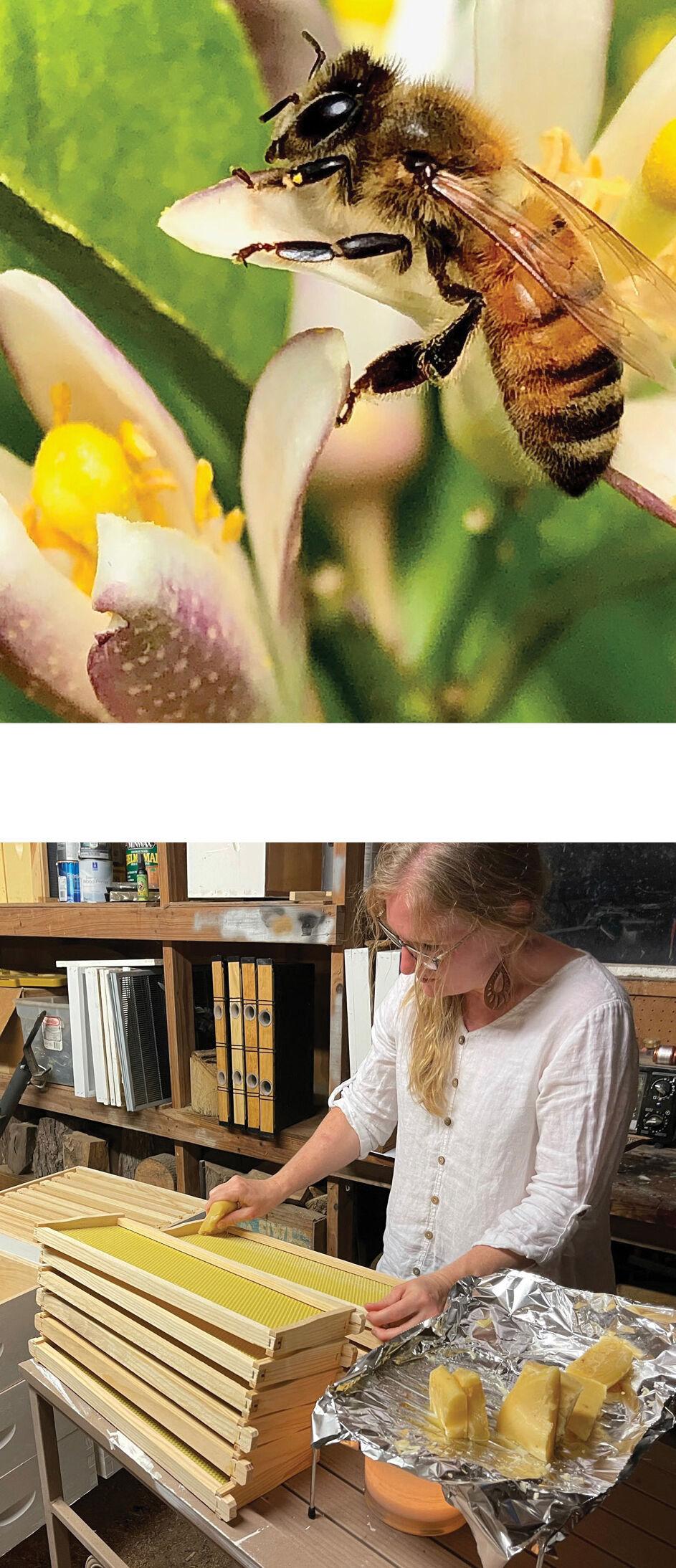 They quickly, however, found out they didn't have any pollinators.
"We decided we really needed to get into bees, and so our sons were at the age where they could become part of the Pineywoods Beekeeping Club and they gave them each a hive through the club and free bees to go with that," Theresa said. "That's how we got our feet wet with bees."
The couple also bought four other hives, bringing them to a starting total of six. The family went through the club's beekeeping class and from there began adding more hives every year.
"We got more interested in it," David said.
"Every year, you can split the colonies into two or three — even four sometimes," Theresa said.
"Yeah, part of beekeeping is keeping the bees you have. They naturally want to swarm in the spring every spring," David said. "Each hive wants to swarm, so you have to head that off by splitting the hive — you take half the hive and the queen, and you put her in a new box and you naturally grow that way."
As they began to get more hives, the couple began to think about making honey. This spring will be their fifth as honey makers — although they didn't get any honey their first year.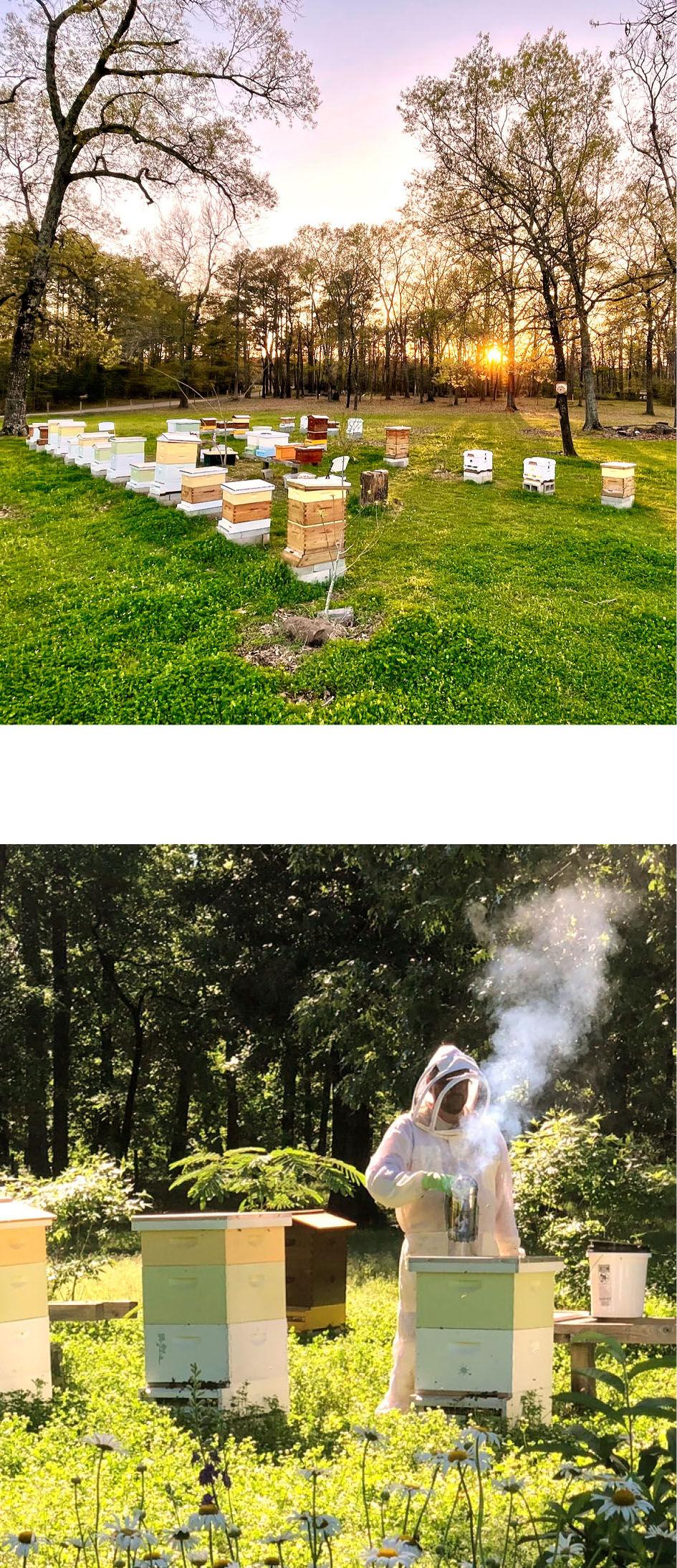 Once the two had honey made, they wanted to start selling it — but they didn't know how or where to do it.
While Theresa and David began to think about selling their honey, their friends were thinking about opening Salt & Honey at the Angelina County Farmers Market.
"We're like, 'You have the perfect name, we have honey, you have a shop — what if y'all sold honey that we have?'" And it just — the rest is history," Theresa said.
The couple thought of the name — Mel Terra Farm — as "Mel Terra" is Latin for "honey land," Theresa said. It is a play on the phrase "a land flowing with milk and honey" found in the Bible.
Another fun part for the couple was figuring out the packaging. David has a graphic design background, while Theresa enjoys calligraphy, so they both enjoy design. They had a lot of fun coming up with labels and logos, David said.
"With David being in marketing, it was just kind of a marriage made in heaven," Theresa said, laughing. "We could do it all here (at home)."
The couple also had to figure out how to make their honey look appealing because raw honey crystallizes, David said. They started thinking about how to solve the problem and found out about creamed honey while visiting another bee farm.
"We started researching it, and it's an interesting process — you take one part creamed honey and nine parts raw honey, mix it together, chill it at a certain temperature for a while, and the crystals spread out and it makes this nice consistency," he said. "We don't process the honey — it's the way it came from the hive."
Once they realized making creamed honey was the perfect solution, they wanted to start adding flavors to it. They want to feel good about what they're putting out, so everything they use is natural.
"She's the flavor queen — she comes up with all these amazing tastes and flavors and combinations, so we use our honey as the base," David said, motioning to Theresa.
"Some have been suggestions from other people, some have been ones that we just thought sounded good," Theresa said.
"We have a big lemon tree out there," David said. "We made lemon honey just from something on the farm here."
"Yeah, anytime we can, we try to use organic fruit or natural fruit to go with it — I like to make it in a way that I would feed my family, too, because I'm really particular. So I just try to carry on that idea in the honey, too, and what I would feed our community, too," Theresa said.
What they do is a lot of work — they spend the first six months of the year beekeeping and the second half of the year extracting, creating and marketing the honey.
"It's a cycle," Theresa said.
"And it's hard, hard work — you go out there in a bee suit and spend hours and hours, sometimes half a day or more, inspecting hives, making sure they're healthy, making sure they have a good queen — it's a whole lot of work," David said.
For the couple, however, the work is worth it because they love the bees and watching them grow.
"There's a lot of problem-solving, and making flavors is fun — it's still work because it takes hours, but we love it," David said.
"When people try the honey and people enjoy the taste of it — we've had some people say it's the best honey they've ever had — that's always encouraging," Theresa said.
"It is rewarding to taste the honey and realize you've helped create something unique," David said.
To purchase Mel Terra Honey, visit melterrafarm.com or Salt & Honey Marketplace at 117 S. First St. in downtown Lufkin.