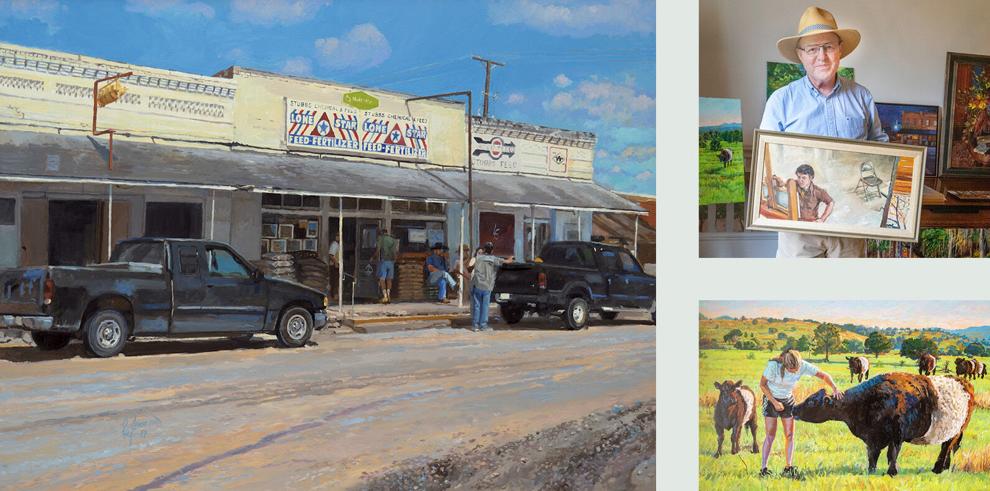 Exploring the work of Huntsville-based artist Lee Jamison provides viewers with a much-needed opportunity to explore the interconnectedness that runs deep in East Texas life — and something most denizens of the Pineywoods have deeply missed during the pandemic.
Lee celebrates the intertwined nature of the region as only a well-entrenched East Texan can accurately represent.
He captures much more than the visual reality of life in East Texas. His work touches off a pyrotechnics show of emotions as you take in the familiar sights featured in his paintings. His work draws in viewers who probably don't list art appreciation as one of their favorite pastimes.
Viewing his work, you can feel your bare feet sink into a thick carpet of St. Augustine grass as you retreat to a 10-year-old version of yourself playing outside. You can hear the water frogs singing and the wind slipping between pine needles.
But Lee claims that realistic feeling may be overestimated.
He considers himself an abstract painter, but his method leaves the subjects of each piece instantly recognizable. In his process, he captures a psychological influence that gives more of a realistic feeling rather than rendering visual realism.

Lee often begins a project by capturing the subject in a photo or pencil sketches. He uses computer software to manipulate that beginning image and "try to get what I was after in the scene in the computer," he said.
He uses that altered image as a sketch of the subject to begin his work.
Lee quickly adds he's not tied down to specific process.
"I don't do each painting the same way as I did the painting before," he said. "I try to use all the tools available to me as a 21st century artist."
He compares the feelings of realism his work elicits to the reaction many people have to Tennyson's historical poetry.
"There's an element of fiction to it, but it's a fiction that aims to get at the deeper aspect of what the truth is," he said.
His paintings are to a photograph what poetry is to journalism.
"I try to give a sense of how something feels as a product of our human interactions," he said.
A collection of antique autos on state Highway 19 near Trinity struck emotional chords for Lee one day as he headed toward Mission Tejas State Park.
Jimmy Cochran's auto collection includes a four-door Mercury Comet that possibly rolled off the assembly line in 1960. Inside, he caught a glimpse of a retro baby car seat like the one his parents had for his baby brother — and that brother has already celebrated his 55th birthday.
The sight brought up the despair any parent feels if their car gives up the ghost and they are stranded on the roadside with small children.
He celebrates those once-vital vehicles-turned-yard-art in his 2017 work, "Out to Pasture."
His book, "Ode to East Texas," released in 2021, includes a historical introduction by Carolina Castillo Crimm. Jamison reminds readers that East Texas was once the Heart of Texas with Waterloo (now Austin) and Bastrop far-flung western outposts.
Today, Central Texas represents the mass media perception of Texas, and the eastern region of the state is hidden behind the "pine curtain."
East Texas remains under-represented in works by contemporary Texas regionalist artists, Lee said. He is the only East Texas artist in the group that leans heavily on Central Texas and the Plains for their subject matter. A desire to share the natural beauty of East Texas sparked the idea for "Ode to East Texas."
Born in Shreveport, Louisiana, Lee ventured west to attend Lon Morris College in Jacksonville then back across the Sabine River to complete his degree at Centenary College.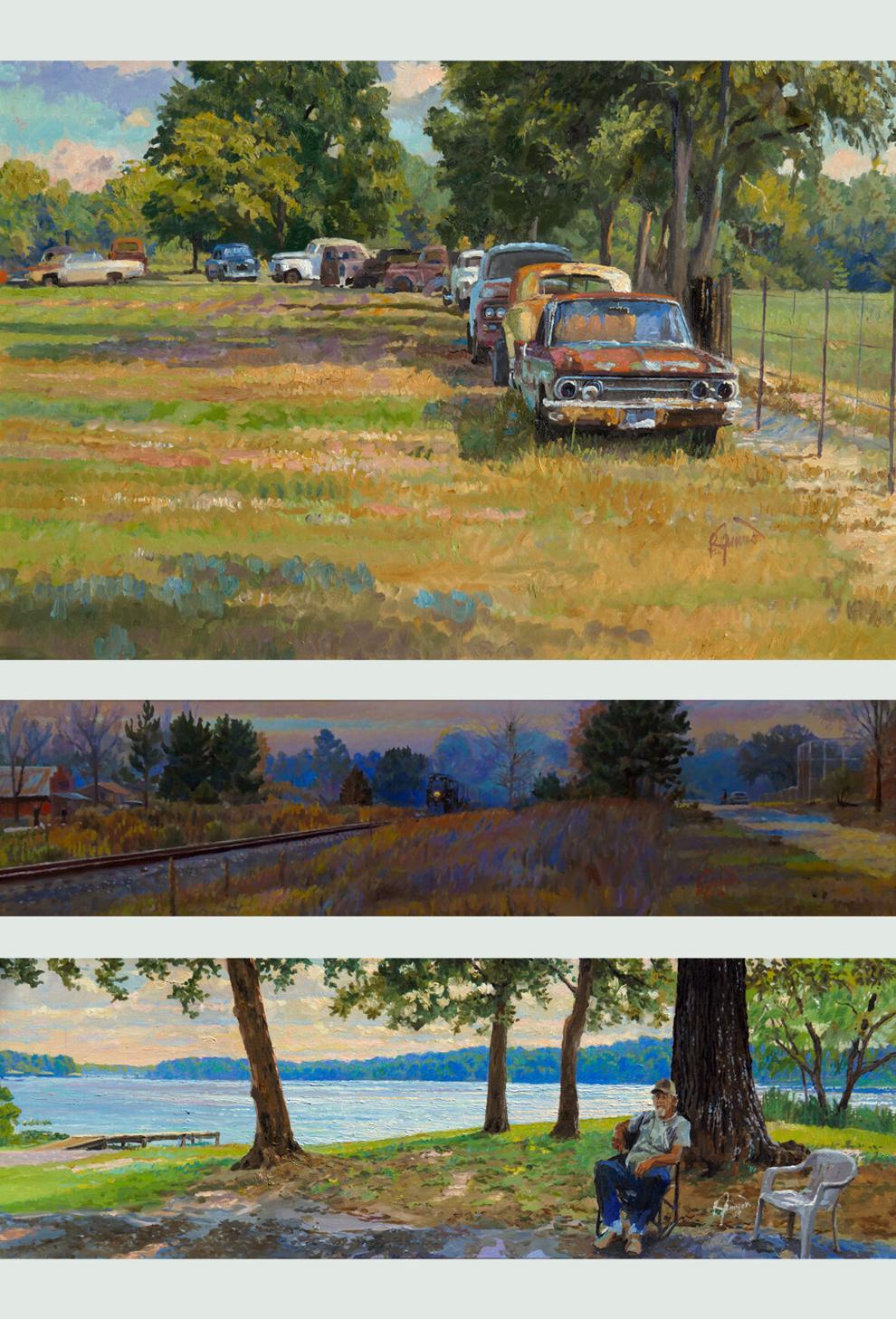 He met his wife Melinda at Lon Morris, but the romance didn't begin until they were at Centenary, Lee said.
He was studying to be a Methodist minister like his grandfather. He credits Melinda with recognizing he was more of an artist than a preacher.
"I would have been a dreadful administrator for a church," Lee said. "I found that (lack of administrative skills) was something that haunted the careers of people I went to school with. A few managed to stay the course and make a career out of it."
Looking back, he's also grateful his art career allowed him to stay in one place longer than administrators in the church would typically allow.
"My grandfather probably didn't stay more than five years at any church, and he was a pastor at many large Methodist churches," Lee said.
"I really enjoyed staying in one place long enough to watch people grow up — watch trees grow up — and feel my connection to my surroundings," he added.
Lee and his family have made Huntsville their home for 15 years. Before that, they spent more than 20 years in the tiny town of Dodge, 10 miles away. Lee only half-jokingly says the family tree of Dodge is a rope.
"It was so intertwined with itself, there was a deep sense of connection between the people there to the people that went before them," Lee said.
That sense of connectedness can be found in much of his work.
Those who make their home here typically find there's rarely six degrees of separation between them and other East Texans. Everyone is much more closely connected.
Small town living comes with the free benefit of proximity to eccentric characters.
"You're going to live next door to the oddballs just because it's a tiny place," Lee said.
That closeness also brings greater acceptance than unique characters experience in larger communities.
"We're losing a lot of that interconnectedness, and it's one of the things I love about East Texas," Lee said. "There's a sense of a deep presence of the past and your relationship to the past."
Two particular pieces — "The Rural Feed Store," depicting Stubb's Chemical and Feed in Trinity, and "Connected," featuring a Lufkin street scene with three men seated on a bench in front of a barber shop — celebrate the unofficial community headquarters found in every small town.
Lee celebrates Stubb's role as much more than a store offering Lone Star Lamb Chow. It's a place where local folks pull up a feed sack and stay for a while to share news and views.
Jamison's ''Ode to East Texas'' will be on display starting Jan. 22, 2022, at the Museum of East Texas. The exhibit will stay in Lufkin through March before traveling to Huntsville, Waco and Shreveport, Louisiana. The exhibition will close in Houston. The Texas portions of the tour are being supported by a grant from Humanities Texas.
The Museum of East Texas is at 503 N. Second St. in Lufkin. Hours are from 10 a.m. to 5 p.m. Tuesday-Friday and 1-5 p.m. Saturday and Sunday. The phone number is (936) 639-4434.