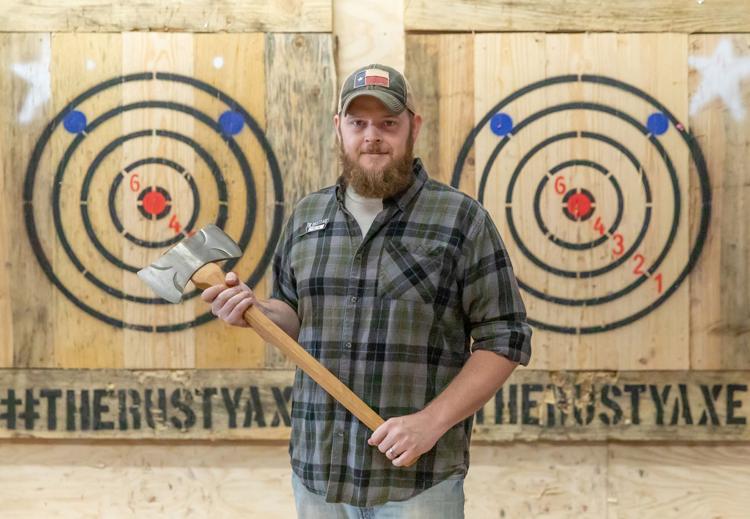 Axe throwing is a hot new trend gaining traction in communities around the globe.
Throwing small hand axes at a wooden target has even become a competitive sport in some areas, and wannabe lumberjacks from Nacogdoches can now enjoy the sport.
The Rusty Axe opened in downtown Nacogdoches in March and offers a meeting place for all kinds of events, groups and individuals.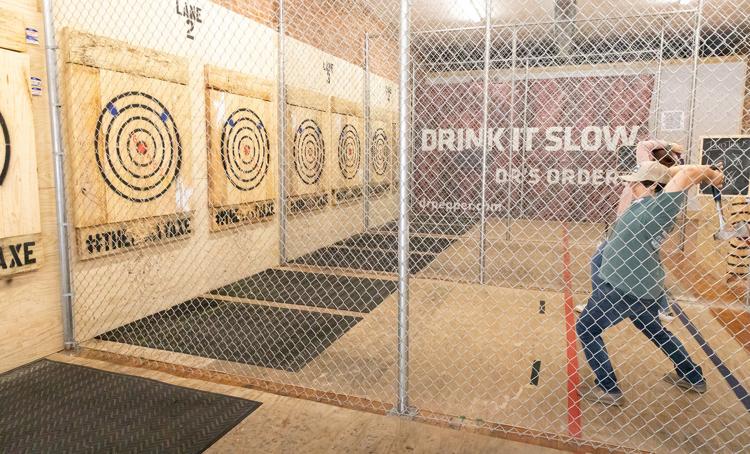 "I want to get people out of their comfort zone," owner Jack Chandler said. "That's what this place is all about. Just get in here, forget all of the stress that's going on and have fun."
Individuals or groups sign up for a throwing time at TheRustyAxe.com, don their closed-toed shoes (however, no flannel shirts are necessary) and show up. One hour of throwing is $20, and the business will be offering $10 Mondays and Tuesdays through January.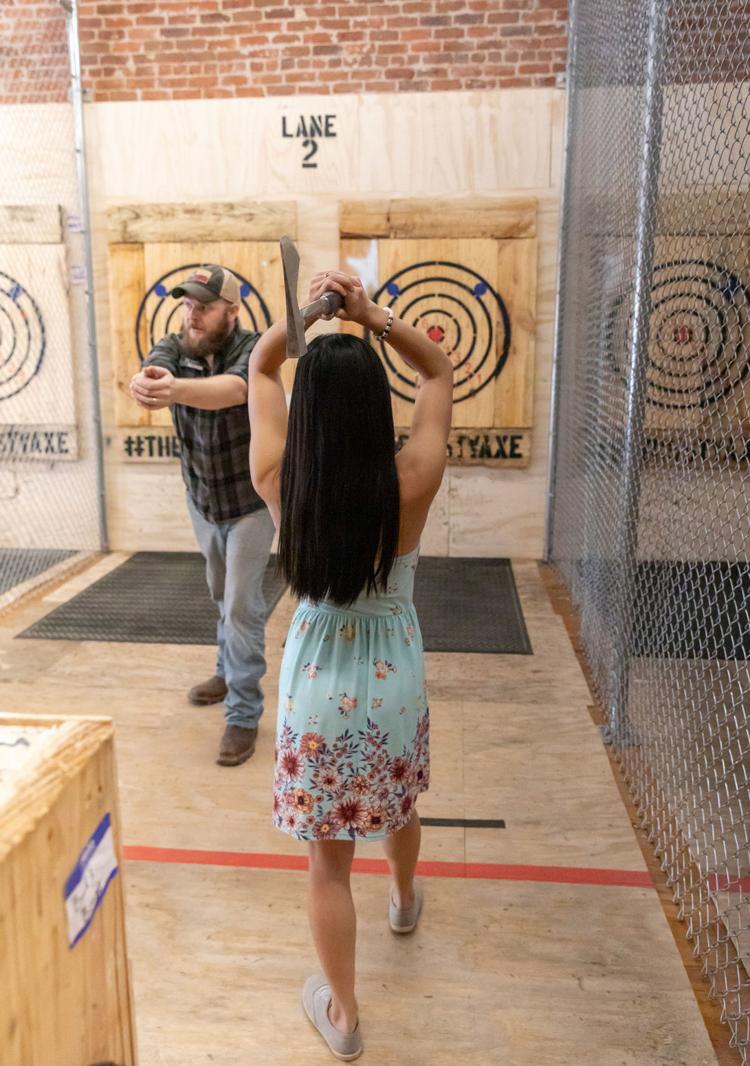 "There's not a whole lot to it," Chandler said. "It's more about spending time standing in front of the target throwing an axe."
Stephen F. Austin State University master's student Brianna Clark said she loves The Rusty Axe for the relaxing experience.
"I like that, in a way, it's exercise without feeling like exercise," Clark said. "It's also a fun way to hang out with friends."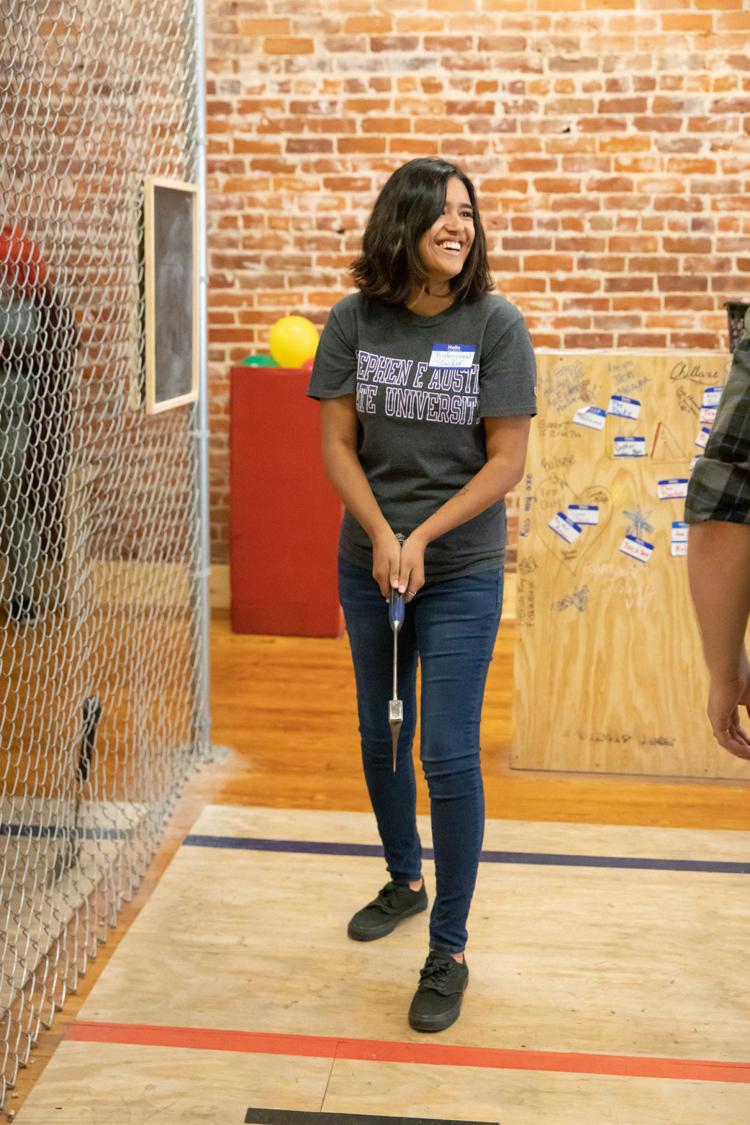 Mark Svendsen, a Virginia native and geology graduate program student at SFA, said he enjoys having a place for exercise and fun. As a firm believer in supporting local businesses, Svendsen said he is attracted to new and exciting ideas.
"This is something really unique," Svendsen said. "How often can you say you've thrown an axe?"
The Rusty Axe grew out of an axe and hatchet manufacturing company Chandler owns called American Made Axe Company.
"About three years ago, I started getting questions like, 'Hey, can you throw these axes?'" Chandler said. "Axe throwing venues were starting to become a big thing across the country. So I took one home and tried it."
Chandler ended up loving the experience and immediately started looking into target material and lane construction. After finding the right location in historic downtown Nacogdoches, The Rusty Axe began to form.
There are many ways to spend the hour of throwing. Participants can go tournament style, try their hand at popping balloons (which is harder than it may seem), hitting each ring on the target, scoring the most bulls-eyes or a combination.
Because safety is of top importance, Chandler or a member of his staff coaches participants in safety and proper form.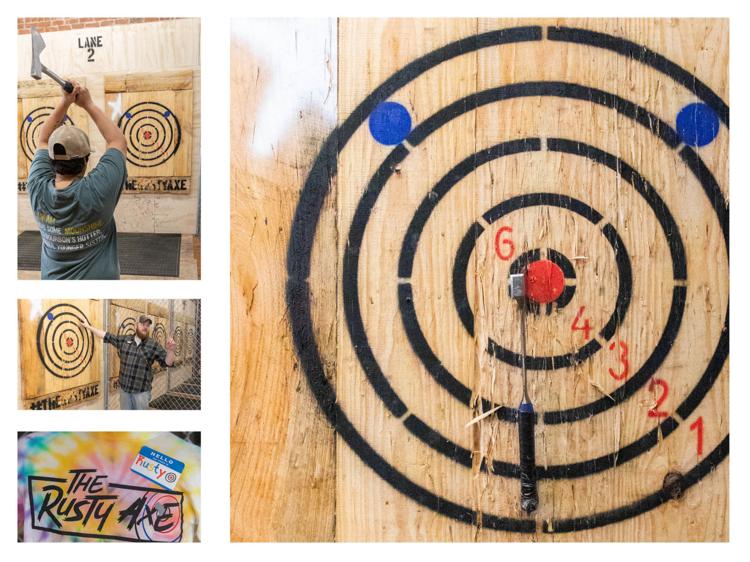 "People think it's incredibly dangerous," Chandler said. "I've had 10-year-old kids in here throwing axes. As a matter of fact, the person to throw longer than anybody else was 10 years old. She threw for two-and-a-half hours, and she was gung-ho, all about it."
The Rusty Axe is a perfect venue for bachelor/bachelorette parties, divorce parties, middle school and high school birthday parties, even for end-of-semester celebrations where students can throw axes at their exams. No matter the reason, Chandler said he and his staff attempt to make it a fun experience for everyone.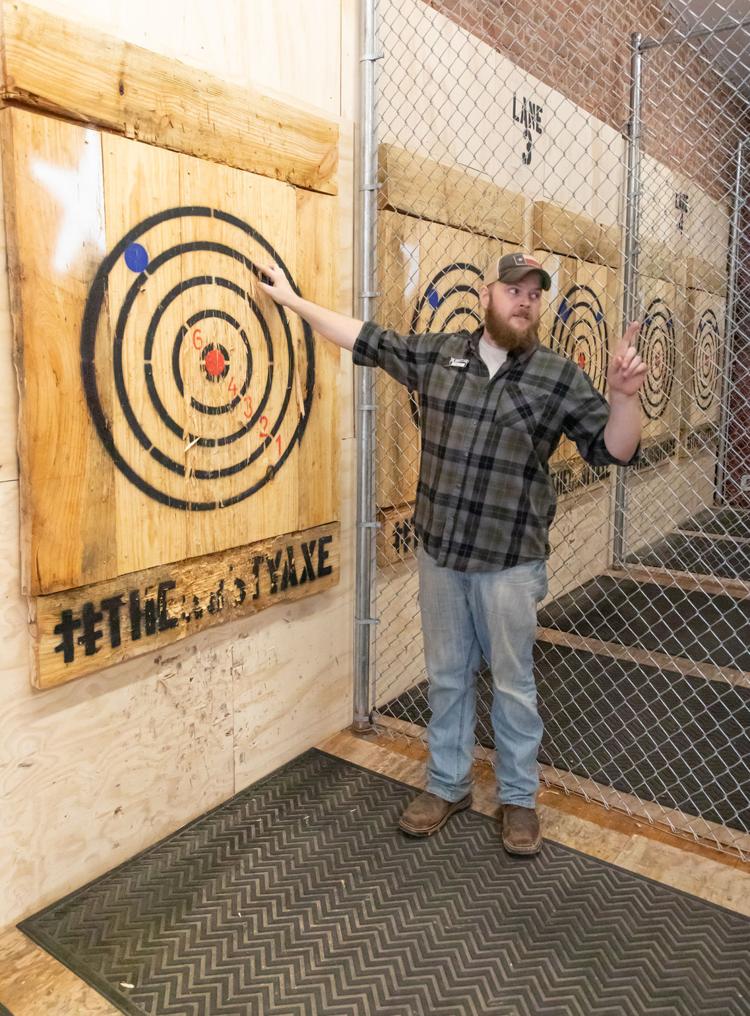 "Our main focus right now is making sure this first store is constantly improving, that it works well and people can have a lot of fun," he said. "We'll make sure everybody is tired before they leave."
One-hour sessions are $20 per person, and an all day pass is $35 per person. The Rusty Axe offers a discount to SFA students, first responders, active military and teachers.
Check out TheRustyAxe.com or call (936) 305-5395 for more information.