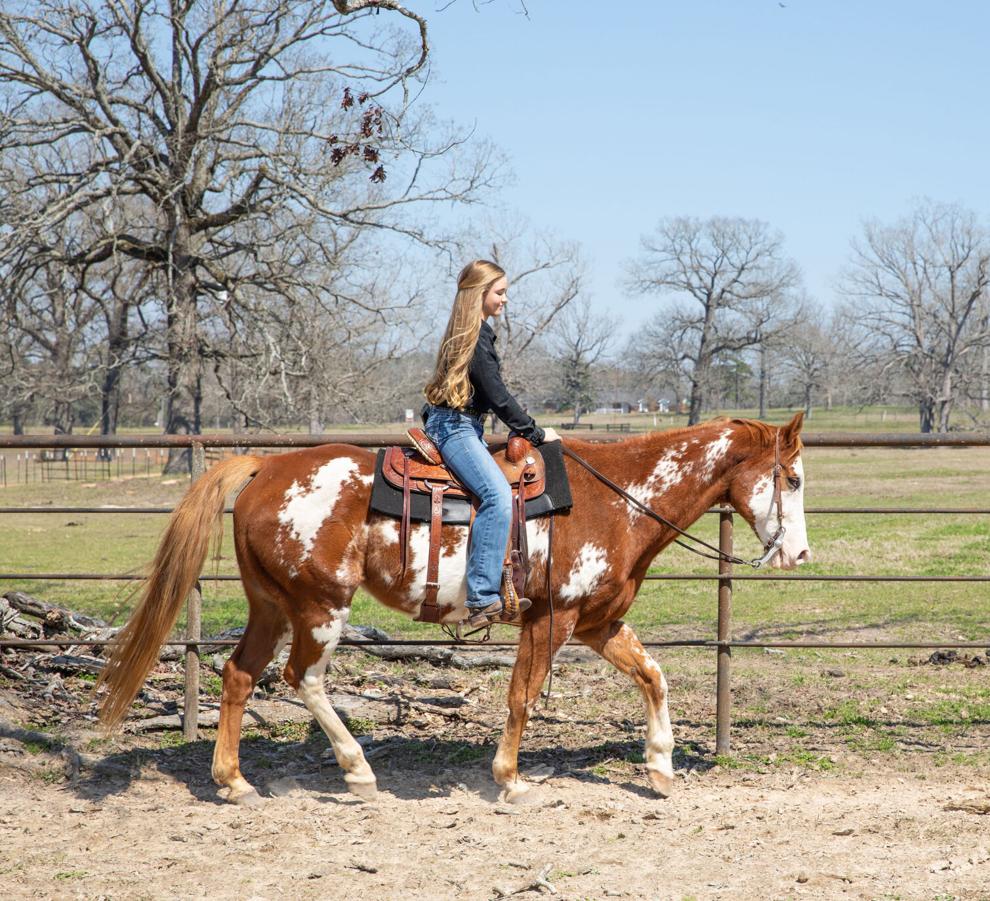 Any given daylight hour, it's likely you can find 15-year-old Jenna Hathorn out on her family's Alto ranch training with a horse.
She has been horse training since she was 7 years old, and she routinely begs her parents to let her quit school because she already knows what she's going to do when she grows up.
Her mother, Brandie Hathorn, said Jenna prefers to complete her homeschool work in the dusk hours so she can get all the daylight she can with the horses. She will come home from co-op classes on Tuesdays and Thursdays sulking, saying, "Don't you realize I haven't been with my horses for eight hours?"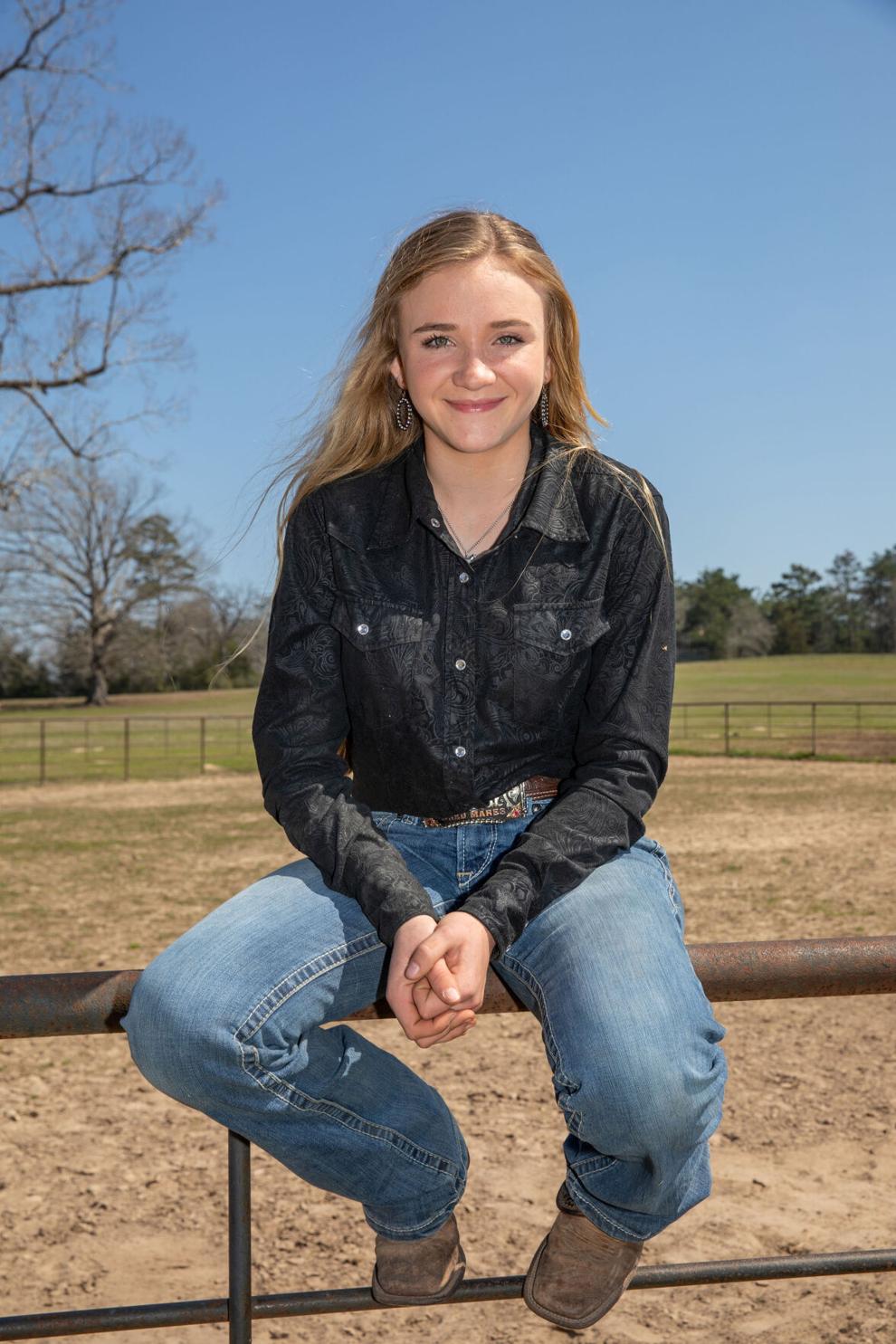 Brandie describes Jenna's work and transformation as a gift from the Lord. All of her kids show horses and like horses, but Jenna has a natural gift and drive to work with horses.
"Watching her, it's unbelievable what she can get them to do," Brandie said. "I've never seen anything like it."
Jenna primarily uses a form of training called Liberty Training, which favors a style of communicating with horses through developing a connection.
She demonstrated the work she does by leading the horse into the pen — no saddle, no halter. Jenna only held a stick with a tail she used for visual and audio cues.
"Liberty helps you bond with the horses because they are able to be free, develop trust," Jenna said.
The training involves a lot of ground work, and she developed an interest in it through a lot of working with the horses she was exposed to growing up. Liberty Training forces the trainer to learn to read a horse's movements and communication methods rather than relying on equipment to force the horse to listen to what the trainer wants the horse to do.
"Take your time and listen to your horse," Jenna said.
Horses are in the Hathorn family. Jenna's grandfather bought his first quarter horse in 1962, and at one point, he owned 150 mares and several stallions, Brandie said. Jenna's father Clay recently won a lifetime achievement award for 40 years of never missing a year of breeding.
Jenna has always taken the initiative to find the horse she wants, saves her money, calls and makes her own deals and does what she needs to do to make her dreams happen, Brandie said. One instance involved a time when Brandie and Clay were out of town, and Jenna found a horse.
Brandie said she called them up and told them she'd found a horse, the man wanted $800, but she offered him $600 and he said he'd take it.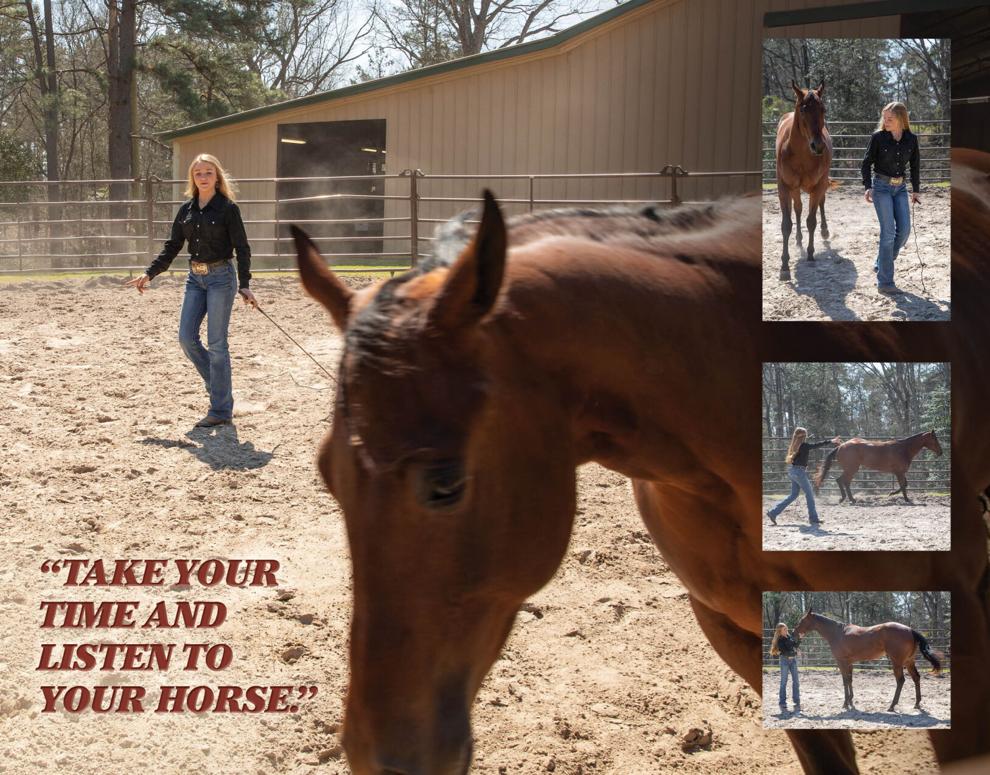 "Clay and several other men went with him," Brandie said. "It was a little pony, and it took two or three men to catch him in a stall, get a halter on him and get him loaded. She sold him at the sale at the expo center in Lufkin — she could stand up on him, turn backflips off of him, just do anything."
Jenna has already begun training horses for people who bring them to her. She teaches them the basics of being halter broken, learning to load in the trailer, picking their feet up, ground manners and more to prepare for a sale. She can even teach some basics of rodeo training like pattern for barrel racing.
"Every horse you train is different. None of them are ever the same," Jenna said. "You can't just be like, this horse is gonna be a barrel horse and this horse is gonna be a reining horse. They kind of have to choose themself what they're gonna be."
Jenna has applied to be a part of the Mustang Heritage Foundation to adopt a mustang untouched by humans to train. If accepted, she would train for a certain period of time and come back to compete for prize money.
Jenna said if it was her decision, she'd spend most of her time with horses because she understands them more than she does people.