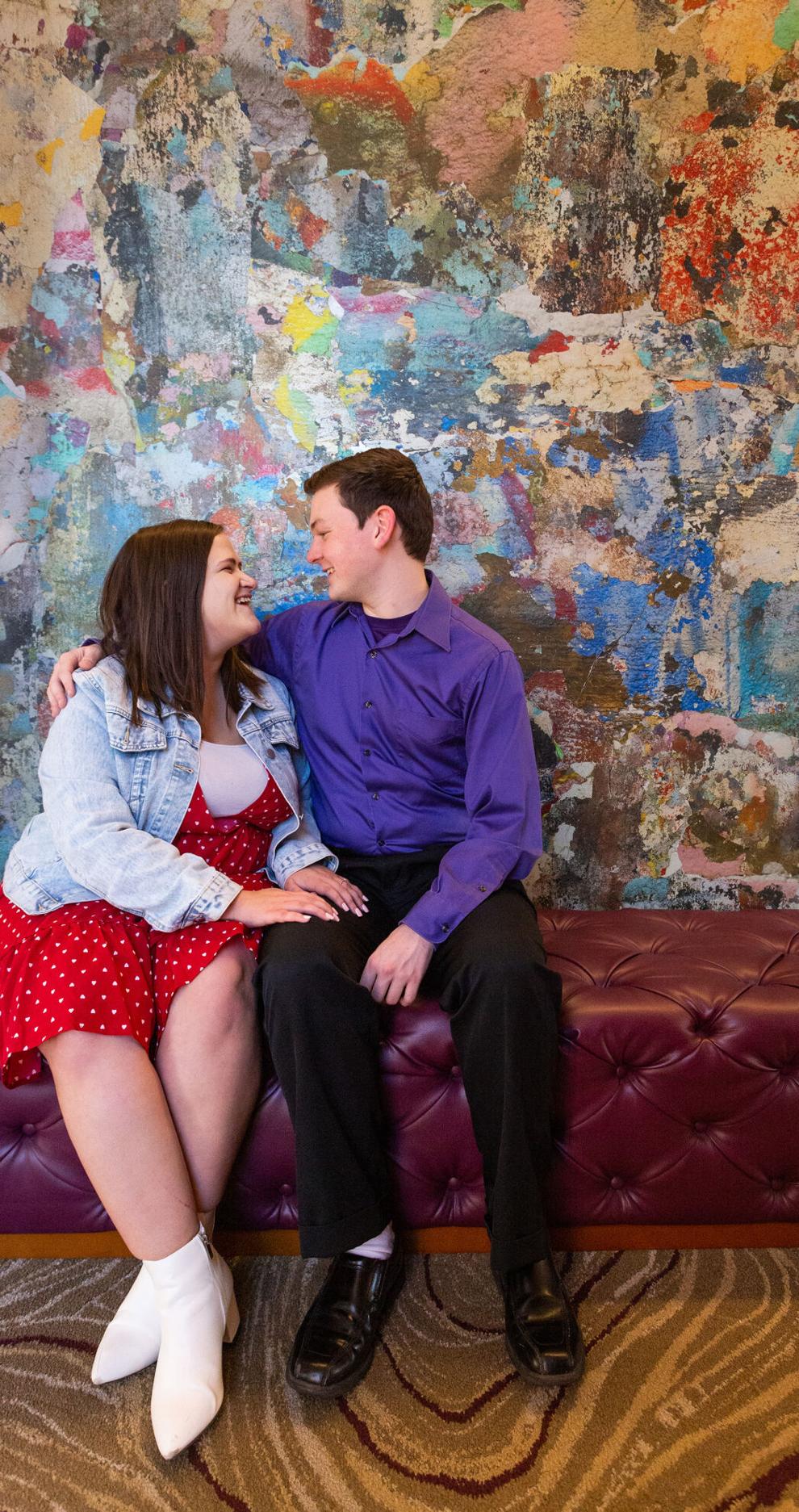 Do opposites attract? Or do birds of a feather flock together?
In my experience (note: the one serious relationship I've been in in my 23 years of life), you need a bit of both to make things work.
Take myself and my fiance, Lucas, for example.
When it comes to our hobbies, we couldn't be more different. I like reading, baking and watching "Gilmore Girls.'' He likes Beyblades, Pokemon cards, video games and Nerf guns.
However, we also have plenty of things in common, including our mindsets toward life, our sarcastic senses of humor and our love for Joshua Bassett's music, good food and great comfort.
Because of those last two, we've always wanted to visit The Fredonia Hotel and its restaurants — which we've heard endless wonderful things about — but it was one of those things we just never got around to doing.
As such, when we finally decided to not only stay at The Fredonia Hotel but to get a taste of 1st City Cafe, Nine Flags Bar & Grill and The Republic Steakhouse, we were stoked, thrilled, exhilarated and all of the above. (Note: In the days leading up, I kept saying to Lucas, "Five more days until we go to the Fredonia. Four more days until we go to the Fredonia." And so on.)
Upon arriving at the hotel, we were immediately impressed by the decor and atmosphere of the lobby. "Africa" by Toto was playing — bringing a smile to our faces — and we loved how open and modern everything is. There also are bubble light chandeliers hanging from the ceiling that can only be described as "cool," a word that became a staple in our vocabulary throughout our stay.
We then made our way up to our room — which was a Superior King — where we were greeted by champagne, chocolate-covered strawberries (the other love of my life) and a note that read, "Welcome, have a nice stay, God bless," all for which we were extremely appreciative.
The room also contained a super comfy Fredonia Hotel robe, plenty of windows for natural light and gilded table lamps with branch-like bases. Both the bathroom and the room had lighted mirrors, perfect for anyone looking to apply their makeup.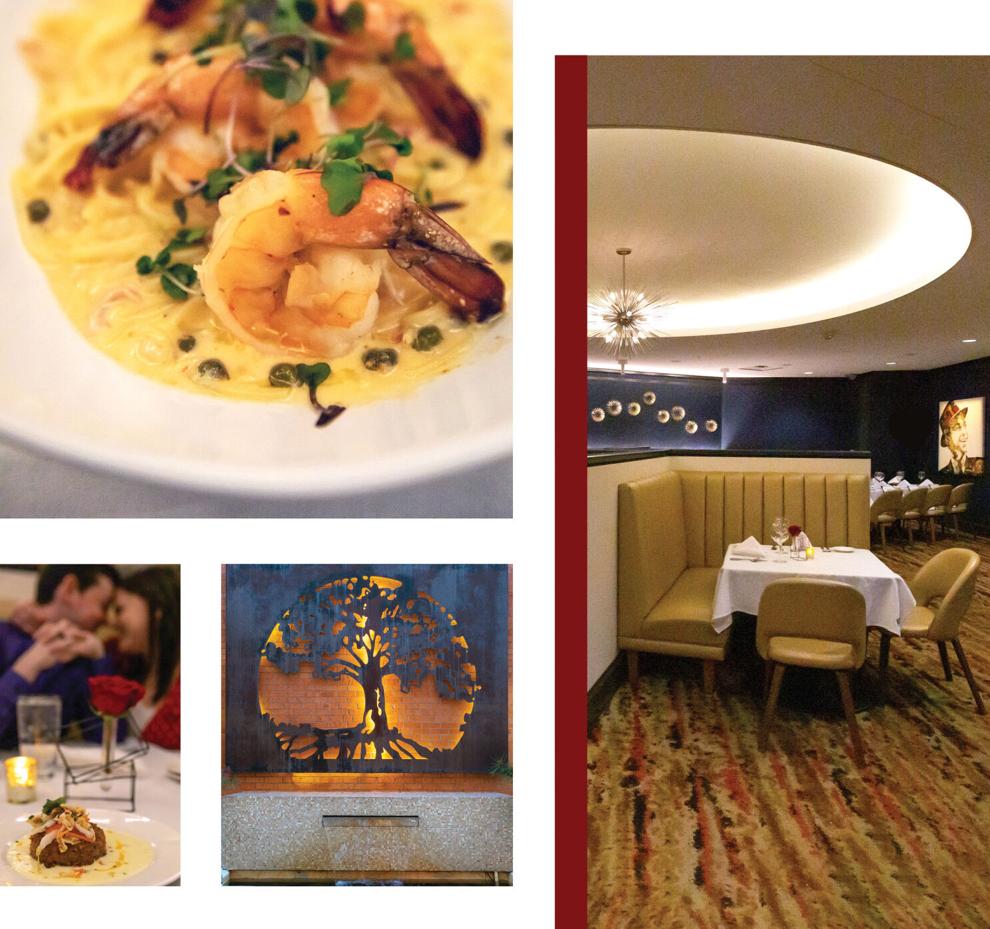 The best part of the room, however, had to be the view, as we could see what felt like miles of Nacogdoches.
Lucas and I decided to explore the hotel a bit before the restaurants opened and we found a beautiful outdoor area with plenty of tables, a serene seating area near a small waterfall and a fire pit we vowed to return to later.
The hotel also houses two pools: the Terrace Pool, located on the green turf lawn, and the Cabana Pool, which has access to 1st City Cafe and Nine Flags Bar & Grill. If it had been about 20 degrees warmer out, I would have loved to take a dip.
In lieu of that, Lucas and I decided to browse in The Shop, where we found many trinkets and treasures that piqued our interest, including super cute and quirky toys for children, vintage bookshelf edition board games, shower steamers, sheet masks, candles and my personal favorite, a selection of beautiful notebooks, including one with a Fredonia Hotel design on the front.
From there, we made our way to Nine Flags Bar & Grill, which was, as I had grown accustomed to at this point, unsurprisingly sublime. I loved the wooden tables, the lights strung across the ceiling and the sparkly bar countertop almost as much as I loved my hand-crafted cocktail, made of Malibu, peach schnapps, pineapple juice and pomegranate juice. (Insert wistful sigh here.)
Now this is where we had quite a cool moment, because my dear fiance, Lucas, despises the taste of alcohol, and as such, doesn't drink. Instead of just offering him water, the bartender whipped up a strawberries and cream mocktail, composed of strawberry puree, half and half and pineapple juice and topped with whipped cream. Lucas was appreciative, and polished off the drink in no time.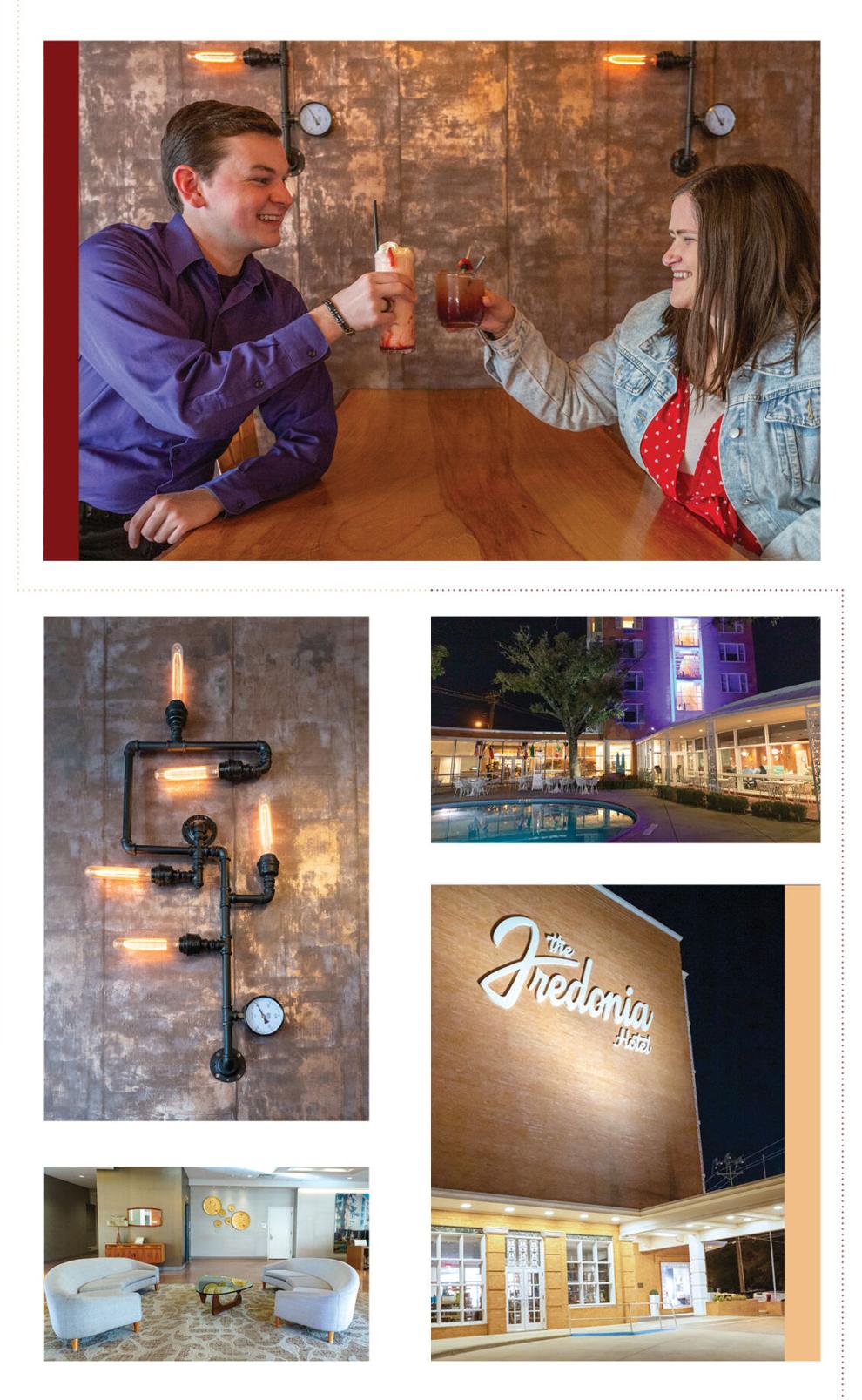 We hadn't planned on eating anything at Nine Flags but when we were presented with a menu, we just couldn't say no. We ended up ordering the fried pickles with ranch, a decision we did not regret when presented with an appetizer that was perfectly crunchy and not too thick or thin.
After polishing off the pickles, we decided to treat ourselves to the Texas Charcuterie Board, which consisted of pimento cheese, candied bacon, house-made pickles, candied jalapeño dip, jalapeño cheddar sausage, creole mustard, grilled bread and sesame crackers. Everything was, of course, delicious, but for me, the highlights were the sausage and the bread, while everyone's favorite carnivore, Lucas, loved the bacon and the sausage.
Now, you might be wondering how we could have possibly eaten anything else that night, and I was starting to ask myself the same question while we made our way to The Republic Steakhouse, where every single thing we ate was well worth the food coma I was in for the rest of the night.
Our dinner began with perfectly crunchy bread, followed by a crab cake Lucas and I devoured, as it too was, well, perfect. I ordered the lobster macaroni and the butter poached shrimp, and Lucas ordered a fully loaded baked potato and a medium rib eye.
Ordering a steak also resulted in Lucas' favorite moment of the experience in which he was allowed to select his own steak knife from a variety presented by our waitress. "It made me feel like royalty," he said. "It was super cool, and I've never experienced anything like that before."
The shrimp smelled amazing and tasted just as great, the macaroni was gooey and cheesy and wonderful, the baked potato was delicious and the steak was perfectly cooked, even for a medium rare gal.
The atmosphere of the restaurant was just as lovely as the food, with low lighting, a rose and tea light candle decking every table. While we were there, we saw guests of every age, in groups of friends, couples and family, and it was cool to see that everyone is truly welcome to enjoy such luxury.
Despite our best efforts, we did need to-go boxes, and we ordered a slice of Luxardo cheesecake — which is topped with cherry mousse and whipped cream, served with an almond tuile cookie and brushed with Belgian dark chocolate and rolled in almonds — to-go. It was a perfectly luxurious sweet ending ... three hours later.
We spent the rest of the evening flopped on the super comfy bed, basking in our food comas. Once we recovered enough, we made some headway on a puzzle before calling it a night, where we were nestled all snug in the bed, while visions of pancakes danced in our heads.
In the morning, we had breakfast at 1st City Cafe, which was the perfect end to our little staycation. Lucas had a waffle and a side of bacon, and I ordered the Lumberjack Breakfast, which came with pancakes, a biscuit, sausage, bacon, eggs and home fries. It was the perfect mix of sweet and savory food, and as for Lucas' waffle, he said, "It has no right being that good."
As usual, everything was perfectly prepared and delicious.
Throughout the stay, every employee we came across was extremely nice, helpful and attentive. Additionally, The Fredonia Hotel really knows how to set the atmosphere, as it seems we heard the perfect songs for each occasion, from "Africa" in the lobby to "Blank Space" by Taylor Swift at Nine Flags to "I'm Yours" by Jason Mraz at 1st City Cafe.
While Lucas' favorite place in the hotel was our room because of how cozy it was, mine was 1st City Cafe. I loved the big wall of windows with a view of the pool, the unique table settings and the bright colors.
We ate a whole lot of food, but Lucas' favorite meal was the steak, and mine was either the fried pickles or the macaroni. (I can't pick. They were both equally wonderful.)
All in all, our time at The Fredonia Hotel was wonderful, delicious, relaxing and absolutely perfect. If you're looking for a place to go for a romantic getaway — or even just a fun trip with friends — I would highly recommend it.
The Fredonia Hotel is at 200 N. Fredonia St. in Nacogdoches. To plan your getaway, call (936) 564-1234 or visit thefredonia.com.