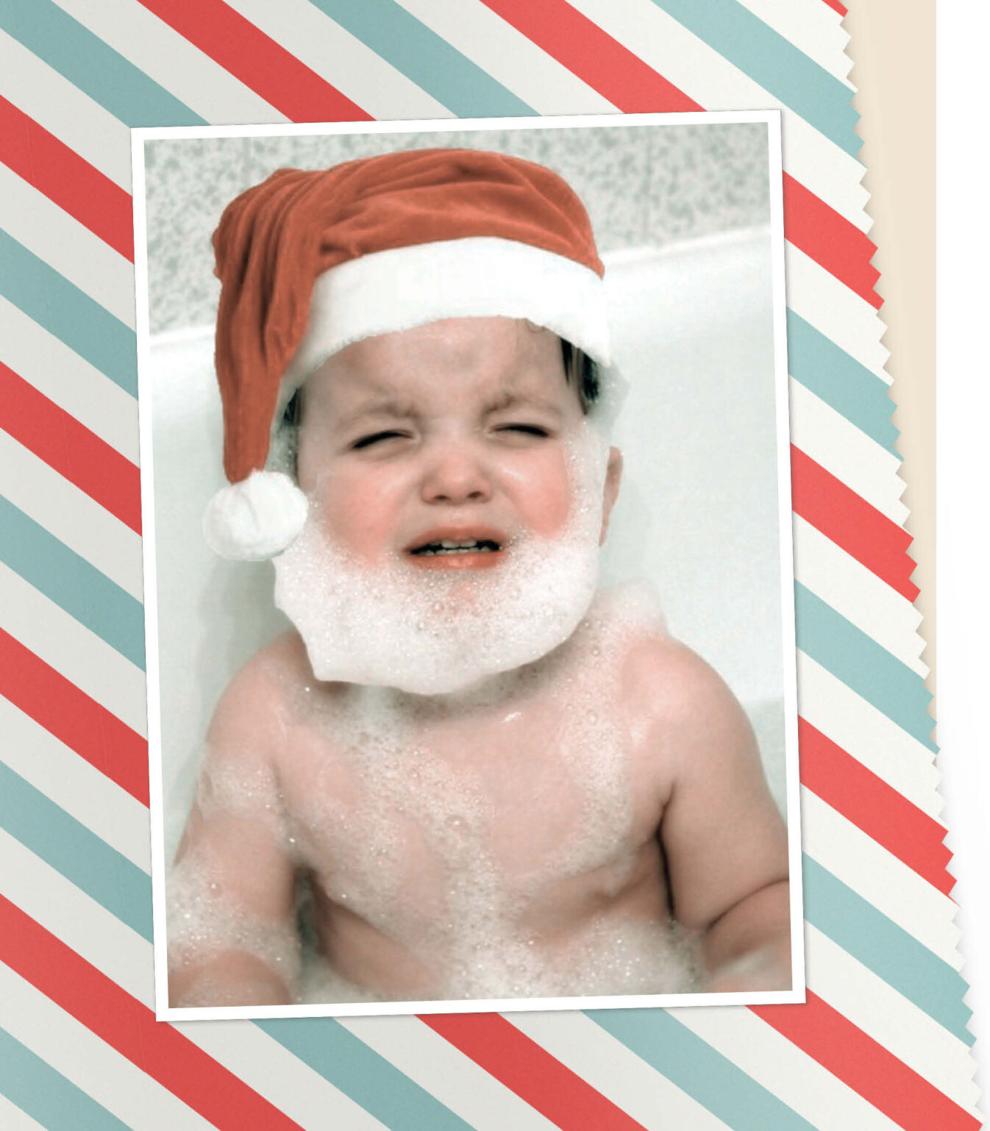 When my lovely bride decides it's time to decorate our house for Christmas, I already know my roles.
My main purposes are carrying the big storage bins containing our stuff into the living room, unpacking the massive tree and cussing the missing lights. I'm bigger than Susie, so I make a better pack mule. And as a former career Marine, I have a far more extensive profanity vocabulary, so that part of my job is perfect for me.
Once I have everything in place where she can reach it, my job then becomes my favorite part of the entire holiday season:
Watching Susie decorate.
It's not exactly fair to call what she does a "system" or even a "ritual." Sure, she has a plan in place every time she starts, but there's nothing automatic about any of it. Every little thing has a place, and every little thing has a meaning.
Before she begins, she has to put on the music. Her Christmas playlist is pretty massive, going all the way back to the Rat Pack and other classics added to some of her favorites discovered over the years. Occasionally, just to see if she's paying attention, I may slip in some of the weird stuff my brothers used to annoy our mom. "Walking 'Round in Women's Underwear" or "There's Something Stuck up in the Chimney" or "I Came Upon a Roadkill Deer."
Susie's got some quick reflexes with that smacking hand.
Once she gets me back in my crate, she's ready to adorn our home.
She'll start with the tree ornaments. She's had some of them for most of hers and her kids' lives. The "Baby's First Christmas" ornaments for her triplets are from more than 30 years ago. Hand-made ornaments from the kids — those projects from school. Every kid had different interests, so there are ornaments reflecting those. Erika and soccer, Aimee and dance, Jay and anything sports-related. Mementos from "The Nutcracker," from when Aimee performed as both Clara and the Sugarplum Fairy in the big performance.
There are ornaments for pretty much everything the kids loved at the time: Sesame Street, Thomas the Tank Engine, Barbie, favorite football players. The Little Mermaid. Belle from "Beauty and the Beast." They're all dangling from our tree's branches.
Every year, Susie let the kids pick out their own ornaments. Those range from sparkly hats to sunshiny ornaments to something involving a favorite sports team.
There are representations of every school they attended, from Lufkin High School to Texas A&M University, the University of Texas and the University of Texas-San Antonio. We've even got a Roadrunner from my favorite college: Angelina College.
Jordan wanted to be a hippie, even though she was born nearly 30 years too late. There's a peace sign on the tree just for her.
My wife is a die-hard Chicago Bears fan, and now she has a needlepointed ornament from our daughter-in-law Ashleigh. Jay and I have a Cowboys star up there somewhere.
Susie has an ornament representing both my daughter Jaime and her: A mom ornament with a bag filled with a baby bottle, a ball, ballet slippers and a grocery list. It's the "Multi-tasking Mom" ornament, and it fits them both.
Susie, a school nurse, has special gifts she's received from students throughout the years. She's also managed to find a couple of Marine Corps ornaments to make me feel special.
We've even got ornaments representing our pets — including the grand-pets. They're family, and they belong on our tree. The cat doesn't need an ornament, since she insists on hanging on the branches anyway.
No sooner than we'd gotten our kids grown than we started having grandchildren popping out all over the place. We're at seven grand-brats — and counting. My wife is already looking for ornaments for each of them.
Every time Susie and I have a chance to travel, we find something to commemorate our visit. That's why we have ornaments from Albuquerque, New Mexico; Chicago, Illinois; Sedona, Arizona; Winslow, Arizona (We were standing on the corner there); several beaches (we have a painted sand dollar from one of them); and Santa Land in Tyler, Texas. Every stop created a memory, so we gathered our memorabilia.
That's a lot of ornaments.
We're gonna need a bigger tree.
Once she's (finally) finished dressing out the tree, Susie turns to the rest of the house. Amid some lighted greenery, she places nutcrackers on the mantle. One came from Germany, where her brother Wayne was stationed while serving in the U.S. Army. She even found a nutcracker wearing Marine Corps dress blues just for me.
On the table in our foyer, Susie puts out one of her most prized possessions: a little Nativity set that has seen its occupants grow every year. We've added camels, lambs, a donkey and three wise men. I don't know who all visited the manger that holy night, but if they were there, we're gonna have 'em in this Nativity set.
This particular collection (a Fontanini set from Italy) is one Susie's had for years. There's a tiny stable with Mary, Joseph and a manger. However, a few years ago, we noticed after a grandkid visit that Baby Jesus was missing in action. We knew there was no telling where one of the kids had taken the little figurine, so we went shopping at a Macy's in Houston, where they supposedly sold those items. I was wandering around looking like my usual lost self when Susie ran up to me and announced in a loud voice, "I found Jesus!"
The bystanders didn't know whether to run or throw up some praises with Susie.
There's a wreath on our door. Susie changes it out every season, and for Christmas, she adds a big, red velvet bow and pine cones. She has me fight our hedges to hang bows on our outside windows.
There are other keepsakes we have to display. There's a 30-year-old wooden snowman offering candy canes to visitors. That came from Susie's mother-in-law. Each of our guest bedrooms — set up for any of our kids who can make it home — has its own miniature Christmas tree, and the bed will have Christmas pillows. As our kids grow older, it gets harder every year to predict who will have time to visit us, but if they show up, they're gonna see some Christmas stuff.
Stockings hanging from the mantle. Some are as old as the kids, and some we've added as our family has grown.
We have our little traditions to go along with our decorations. My Mom and Pop started a "Christmas Bingo" night when we were older. They'd pack envelopes with $5, $10 or $20 bills, and every time we filled a card, we'd win an envelope. It was easier than trying to buy gifts for grown children, and it was far more entertaining. Crank the music, pass the drinks and wait for the corny jokes to ensue: "B-10 you ain't ugly." Susie and I have done it a few times with our kids.
Hot chocolate with peppermint sticks. Matching pajama bottoms (for the ladies; guys don't know how to match stuff). Driving around late at night looking at Christmas lights.
For the little ones, there's the annual reading of "The Night Before Christmas." Most of the time, the kids are asleep before we can get to "Dash away, dash away, dash away all."
On Christmas Eve, we had to put out cookies for Santa and carrots for the reindeer. One year, when I knew my daughter was growing suspicious about the reality of Santa, I waited until she went to sleep before dragging out my combat boots. I tamped 'em down in the fireplace ashes and made footprints from the fireplace to the Christmas tree and back. That bought me a couple more years of believing.
On Christmas morning, everyone — especially the smaller ones — gets up way too early to see the haul underneath the tree. There'll be one designated gift-hander-outer to serve as Santa, and everyone takes turns opening one gift at a time so we can watch his or her reaction. All while the music plays, of course. For the rest of the day, we'll wait for dinner while watching "The Christmas Story" on a loop for eleventy billion hours or until someone shoots his eye out — or at least until the first football game kicks off.
And Christmas dinner? It's as sacred as Thanksgiving when it comes to the "must haves." Turkey and dressing. (It's in the rulebook. Go look.) Green bean casserole, because Meemaw made it every year. All the fixings and the desserts. They have to happen, or it feels like something's missing here at Christmas.
Now that all our kids are grown, part of our new tradition has been traveling to see them. We've hauled a truckload of plastic storage bins filled with gift-wrapped packages. We've celebrated one Christmas with a newborn and another decorating cookies with the little ones. Most of the time, they even let me play with their toys.
With our family grown up and spreading out all around the country, we've gotten accustomed to having more than one Christmas morning. Talk about a bonus.
Most importantly, we've kept intact all of those little things accumulated over the years. Everything, including the songs, is guaranteed to trigger a memory, especially for those family members we've lost. I still listen to Mario Lanza's "O Christmas Tree" just because it was my Dad's favorite. You haven't lived until you've heard a Tennessee hillbilly singing opera.
Time changes things, but not everything. Just because something new comes along doesn't mean we dispense with the old.
`At this point in my life, every part of Christmas has meaning to me.
And every little thing is a big thing.